Soccer Yard Signs Details
Celebrate your favorite player or team with a personalized soccer ball yard sign from Vispronet. Our soccer signs are customizable and are perfect for both kids and young adults. Each sign features your player's name, team, and graduation year. They are printed on both sides of a 17in x 17in yard sign. Our signs are digitally printed with UV-resistant inks for a fade-resistant finish that will not scratch or peel off over time. Each sign is printed on durable 4mm corrugated plastic. This outdoor tested material is suitable for year-round display and can be showcased in all weather conditions including direct sunlight, rain, and snow. Corrugated plastic signs are easy to wipe clean and can be displayed year after year without showing any color fading or quality deterioration.
Looking for some more custom soccer products for your player or squad? Check out our 100% customizable soccer banners and soccer pop up tents.
Parts List:
Custom printed corrugated plastic sign
(1) H-Stake
Sizes:
Material:
4mm Coroplast®: Weather-resistant & UV-protected lightweight corrugated plastic
Additional Notes:
Product can be printed single-sided or double-sided
Frequently Asked Questions
What is the turnaround time?
Our turnaround time is 3 business days. If you need your soccer yard signs as soon as possible, we offer rush production and expedited shipping options at checkout. Preview your delivery date by clicking the "Estimate Delivery" button above.
Are stakes included with the sign?
Stakes can be included for no extra cost. Be sure to click the "Beefy Stakes" option when configuring your sign.
Can I hang my sign?
Yes, you can hang your soccer sign. We offer a finishing option with four punched holes around the perimeter of the sign for easy hanging. When configuring your product, find the "Select Your Finish" dropdown menu. Then, select the "Holes punch in corners" option.
What are these signs made from?
These soccer ball yard signs are made from 4mm corrugated plastic. This durable material is water-proof and safe for all season display.
Are these soccer yard signs reusable?
Yes, these signs are reusable and crafted for repeated use. To keep your sign looking new, we recommend cleaning it with soap and water when it gets dirty.
Are these signs weather-resistant?
Yes, these signs are weather-resistant. 4mm corrugated plastic is waterproof, and the sign graphics are printed using UV-resistant inks for a bright, full-color finish that won't fade or scratch, even after long term display.
How do I clean my sign?
Regular cleaning is a great way to keep this soccer signage in pristine condition for repeated display. To clean, simply wipe the sign with a cloth and warm soapy water. Ensure the sign is completely dry before placing it in storage to avoid any mold or mildew damage.
Satisfied Customers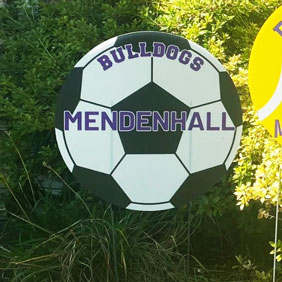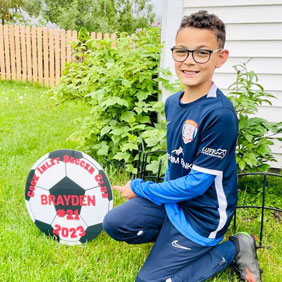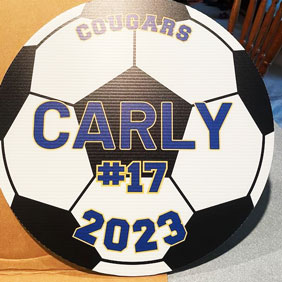 California Residents

Click here for Proposition 65 warning
Frequently Purchased With
Q & A
Reviews