Area Imprint Stretch Table Covers
configurable00

Need help? Hire one of our professional graphic designers at no additional cost!

Choose 'Pay Later' at checkout and receive a free proof
before submitting payment.

Design Online or Upload Template
Create custom products using our online design tool or provided template files.
Area Imprint Stretch Table Covers Details
Showcase your company's logo and slogan on our stretch table covers with area imprint. These table covers have a printable area on the front to display your design. The stretch style of the tablecloths allows the image to be fully visible at all times with no wrinkles. To further personalize these table covers, select a background color to compliment the print. The design is recreated on the table covers with dye sublimation printing, which ingrains the ink into the fabric to create sharp, eye-catching colors that will not scratch or wash off. Our printers use unlimited full CMYK colors. These stretch table covers with area imprint are made from a durable polyester material that is guaranteed to last.
Parts List:
Custom printed table throw with hemmed edges
Material:
Stretch Display Polyester: Stain-resistant and flame-retardant stretch fabric (5.30oz/yd²)
Coverage Options:
Banquet (4-sided with arched front, back, and sides)
3-Sided (open back for storage and seating behind the table)
4-Sided with Zipper (all sides covered with zipper on back)
4-Sided without Zipper (all sides covered)
Cleaning Instructions:
If your product becomes dirty, wash in a household washing machine on delicate setting with cold water and hang to dry.
Specifications
| Model | Throw Size | Fits Table Sizes |
| --- | --- | --- |
| 4ft Table | 48in x 29in x 24in | 48in x 29in x 18.35in |
| 6ft Table | 72in x 29in x 30in | 72in x 29.5in x 23in |
| 8ft Table | 96in x 29in x 30in | 96in x 30in x 24.25in |
Print Size Disclaimer
Sizes below should fit on tables +/- 1.0" of the sizes listed
Height is measured at an angle from the corner of table to leg; depth is the distance between the front and back legs
Area Imprint Stretch Tablecloth Features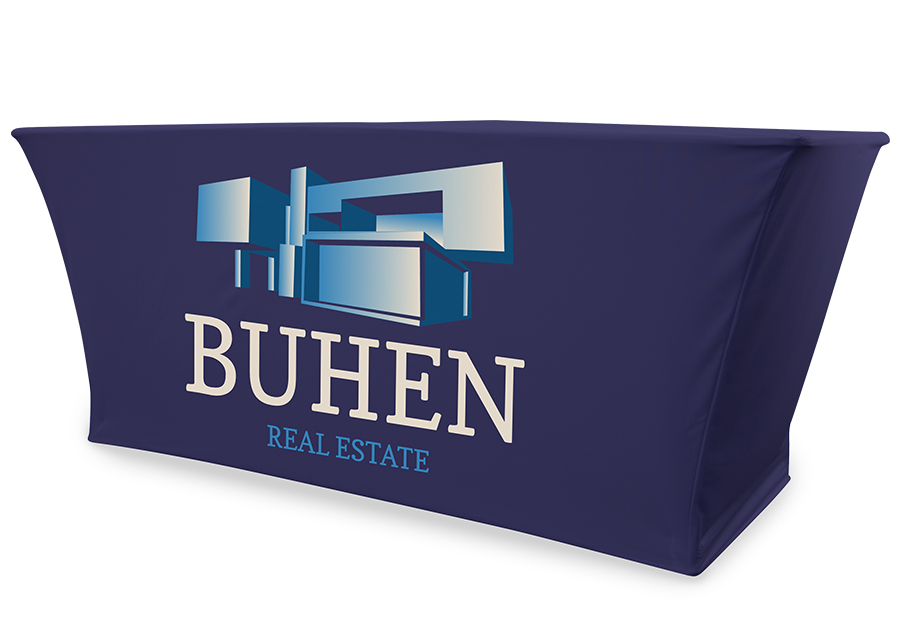 Easy Design Process
Designing your tablecloth is a quick and easy process that involves uploading your custom logo or brand and choosing your background color.
Dye Sublimation Printing
All stretch tablecloth styles are printed using dye sublimation. This premium printing technique produces vibrant, full-color graphics that are fade-resistant.
Premium Stretch Material
These table covers with area imprint are wrinkle-resistant, flame-retardant, and stretchy, making them perfect for all indoor and outdoor applications.

Reusable and Easy to Clean
Our stretch table cloths are easy to wash and reuse. Simply throw the tablecloth in the washing machine and air dry. Our printing style is scuff and fade-resistant.

Choose Your Coverage
Choose between 3-Sided and 4-Sided coverage options. Both coverage styles can be beneficial for different applications.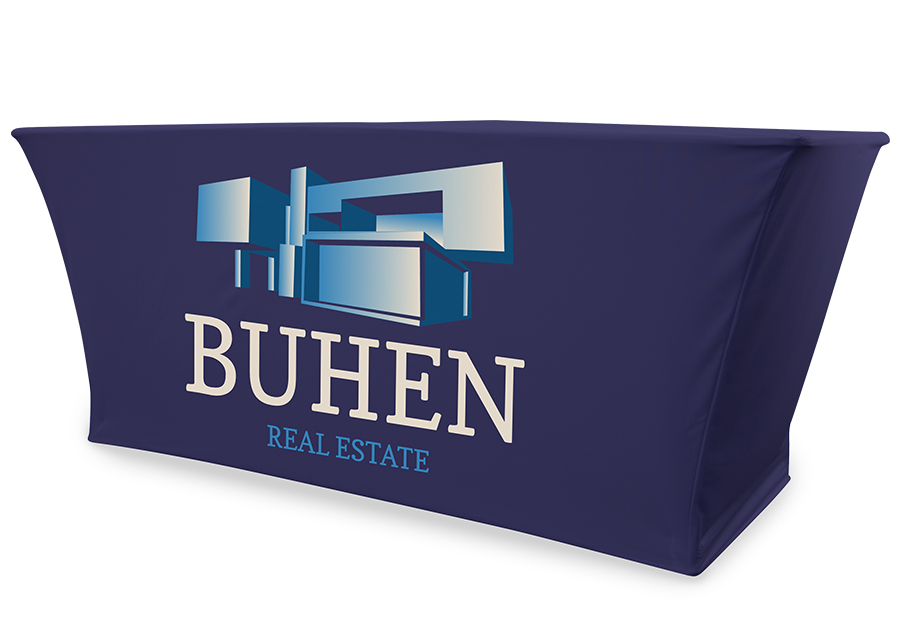 Design Custom Stretch Table Covers with Area Imprint Online
To accommodate different preferences and expertise, we offer three options for designing your cover:
Design Online – Click on the "Design Online" icon on the "Design/Upload" tab to be taken to the design online suite. This online tool is for designing your artwork and adding images from your computer, clipart, text boxes, and different colors.
Upload Artwork Template – Download the template using the link on the "Design/Upload" tab. When this is done, upload the customizable template on your design software to create your graphics. To send the template to us, click on the "Upload Template" button on the same tab before or after placing your order.
Free Design Services – If you would rather have expert designers create the graphics for you, let our customer service representatives know. Provide the specifics you want in your artwork and our graphics department will design the print at no additional cost. Our designers will send you a proof before the custom stretch table covers with area imprint are printed.
Frequently Asked Questions
How do I decide between standard table covers and stretch tablecloths?
The decision depends on how you want the product to look. For a more classic cover that hangs from the top, like the tablecloths used in homes, choose a standard version. If you would like a cover that shows the shape of the table, so the graphics are always visible, go with a stretch option.
What is the difference between all over print and area imprint table covers?
The difference is the printable area. Our all over print table throws are 100% customizable with the design covering the entire surface area of the tablecloth. Our stretch table covers with area imprint feature only a printable area in the middle of the tablecloth with your choice of one solid background color.
Are there stretch covers for round tables?
Please see our round tablecloths for stretched, fitted, and standard table throws for round tables.
How do I choose between the different coverages?
The right coverage depends on how you want your stretch table cover to look and how you plan to use the table at an event. If you are sitting people behind the table, use the 3-sided option. This will give them leg room. If you want a more sophisticated style to use at a party venue, choose the banquet option, which arches at the bottom. If the table is more of a display that will be put against a wall or will have products on top, the 4-sided option is ideal. If, however, you need to store things underneath the table, try the zippered cover.
How do I put the cover on a table?
Set up is simple and only requires a minute. The polyester cover stretches over the table and the four bottom pockets pull over the table feet. For a step-by-step guide, see our "Videos" tab.
California Residents

Click here for Proposition 65 warning
Stretch Table Cover Options
Frequently Purchased With
Q & A