configurable 0 0
Custom printed solutions in 3 simple steps.

1. Choose from 3 Design Methods
Click the Proceed to Artwork button to choose Design Online, Upload Template, or Free Design Services.

2. Receive & Approve Your Proof
We'll process your artwork within 2 business hours and send a proof for your approval via email.

3. We'll Bring Your Idea to Life
Our standard turnaround time is 3 business days plus shipping with expedited options available.
Breakaway Banners Details
Motivate your team and show your team spirit with a custom Breakaway Banner from Vispronet! Our budget-friendly run through banners are printed on a premium polyester material using dye sublimation for an exceptionally vibrant, full-color print. We have multiple size options available as well as an optional Pole Kit with a premium carry bag for easy storage and travel. Design yours today!
Looking to order custom cheer signs as well?
Parts List:
Custom printed banner finished with pole pockets on either side and hook-and-loop adhesive in the center of the banner
Banners are printed on one side (single-reverse printing)
Optional aluminum pole kit with carry bag can be added to your order
Material:
Display Polyester: Nearly opaque flame-retardant knitted fabric (6.10oz/yd²)
Popular Banner Sizes:
10ft x 6ft
12ft x 4ft
12ft x 8ft
14ft x 10ft
What Are Breakaway Banners?
Breakaway banners are custom banners with a hook-and-loop fastener running down the middle to form one interconnected banner that is easily separated when someone runs through it. Football breakaway banners, also known as run through banners, typically come with poles that are inserted into pole pockets located on each side of the banner and are usually held by cheerleaders or coaches during the running through process. They are most commonly used for pep rallies and team sporting events such as football, basketball, and field hockey games with ages ranging from youth to college level. These banners are typically displayed as the teams are being introduced before the game to inspire the crowd and provide a grand entrance for the home team.
Premium Banner Material
Vispronet breakaway banners are printed on our premium display polyester. This high quality polyester is wrinkle-resistant, flame-retardant, tear-resistant, slightly stretchy, and has a glossy finish – making it the perfect material for run through banners. The banners are printed using dye sublimation, a state-of-the-art printing method that produces exquisite, full-color, high definition prints, sure to grab the attention of the crowd and everyone in attendance. This printing style also makes for dramatically less fading long term compared to inferior printing methods used by our competitors.
High Quality Pole Set & Bag
If you do not already have a set of poles for your banner, we offer two poles that are compatible with your banner size. For example, if you purchase a 6ft football run through banner, we supply poles that will extend out roughly 16 inches so you can safely hold the banner upright during the running through process. The poles are crafted from aluminum because of its light weight, maximum durability, corrosion resistance, and low maintenance. Each pole set comes with a high-quality carry bag for easy travel and secure storage.
Available in Multiple Standard Sizes
We offer an array of standard breakaway banner sizes ranging from 8ft x 4ft up to 14ft x 12ft with multiple size options in between.
Product Features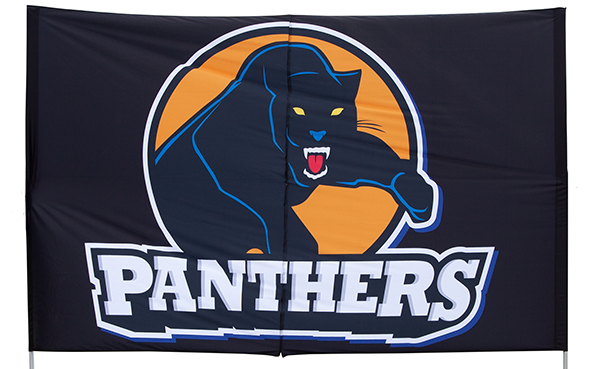 Dye Sublimation Print
Our run through banners are printed using dye sublimation. This printing method infuses the ink directly into the fabric for a vibrant, fade-resistant finish.

Durable Hook and Loop Fastener
A reusable hook and loop fastener is installed down the center of the banner so it easily separates when someone runs through it.

Optional Pole Set & Carry Bag
Add on our aluminum pole set and carry bag for convenient set up, travel, and storage. The pole set is lightweight, rust-resistant, and easy to assemble.

Pre-Sewn Pole Pockets
Pre-sewn pole pockets are attached to each side of the banner for a strong and reliable hold during banner display and use.

Premium Polyester Material
Each breakaway banner is printed on our Display Polyester. This lightweight knitted fabric is tear-resistant and machine washable.
How to Design Your Breakaway Banners
Online Design Tool: Our online design tool is perfect for customers that aren't expert graphic designers and don't have professional design software. The tool is stocked with helpful art assets including clip art, background colors, multiple font options, and guidance to help you stay within the design area and within our minimum DPI Standards for print. After you finish your design, a graphic artist will check for any errors or mistakes before sending to print.
Upload Product Template: This option is best for experienced graphic artists and/or those with professional design software. This method involves downloading the design template from the breakaway banner product page, adding your artwork and design through your software, saving out, and re-uploading to our website. After you upload your design, our graphic artist team checks to make sure there aren't any errors before sending a confirmation to your email inbox that your design is ready to print.
Vispronet Free Design Services: If you would like us to create a run through banner design for you, no problem! Our team of graphic artists can create a design from scratch for no cost to you! After completing the design, our team will reach out to you for approval before starting printing.
Breakaway Signs for Every Sporting Event
Showcasing custom run through banners is an excellent way to exhibit school spirit and energize the crowd before a game or event.  These banners are excellent at attracting the attention of the crowd in the stands and intimidating the opposing team. Football breakaway banners can be showcased indoors and outdoors by a range of school related teams and clubs like sports teams, cheerleaders, student clubs, special events, and more!
Football Run Through Signs
These banners are most often found on the football field before important home games. When the crowd sees the banner with the school colors and logo, they know it is time to get excited and cheer for the home team! Custom run through banners are a must have for rivalry games, playoff matches, and homecoming games! They are a great way to pump up the crowd as the team makes their grand entrance.
Cheerleading Breakaway Banners
These banners are utilized by cheer teams at games and competitions. Whether they are cheering for a school sports team or at their own matches and events, cheerleading run through signs allow for an eye catching start and unforgettable entrance for the team. Because these banners are made from fabric and display vibrant, full-color graphics, they are commonly used as a backdrop during cheerleading competitions and events.
Run Through Signs for Basketball
Breakaway signs are not just for outdoor use! These custom banners are also commonly showcased at basketball games. Whether they are for high school or college, basketball breakaway banners offer a great way for the cheer team and band to pump up an eager crowd before the match begins.
Easy Care and Cleaning
Cleaning our custom breakaway banners is a quick and easy process. Simple throw your banner into your washing machine on gentle cycle in warm water. If you have any tough spots to clean, you can gently apply a mild detergent to the spot for best results. To dry the banner, throw in the dryer on the low cycle or hang to air dry. If there are any small wrinkles after you dry it, you can straighten them out with a clothing steamer. We do not recommend ironing your football run through banner.
Breakaway Banner Assembly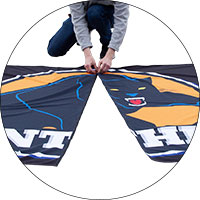 Step #1
Start by laying the two banner pieces flat on the ground. Make sure to avoid surfaces that have any sharp or poking objects as this can cause damange to the polyester material. Connect the two banner pieces using the hook and loop fastener installed on each peice.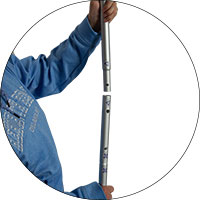 Step #2
Assemble the holding poles by connecting the poles together using the male and female ends of each pole. Make sure the poles are connected securely before moving onto the next step.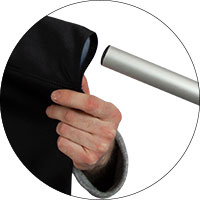 Step #3
Insert the poles into the pole pockets on each side of the breakaway banners. Make sure the poles are completely inserted before moving onto the next step.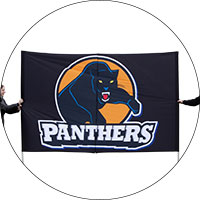 Step #4
Stand the football breakaway banner upright. Pull the poles away from each other to increase the tautness before the team runs through.
Satisfied Customers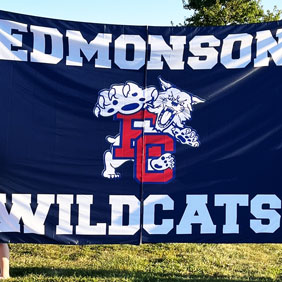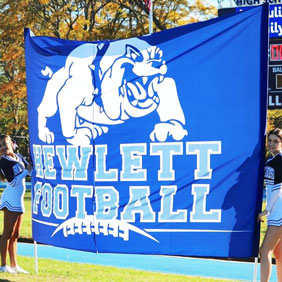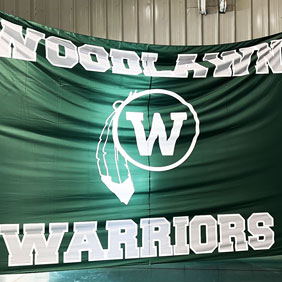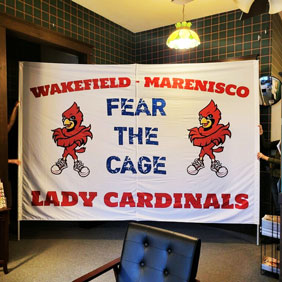 Breakaway Banners - Frequently Asked Questions
General
What is the turnaround time?
Our standard turnaround time is 3 business days, plus shipping. If you need your breakaway banner as soon as possible, we offer rush production and expedited shipping options at checkout. To preview your delivery date, click the "Estimated Delivery" button located at the top of this page.
How do I design my banner?
On Vispronet.com, we have multiple ways for you to design your custom banner. These include designing online using our design tool, downloading artwork templates and re-uploading to our website, and having us design it for you for free through our professional design services. For more information, see section above under "How To Design Your Breakaway Banners".
What file types do you accept?
We accept multiple different file types for your artwork. These include JPEG, PNG, TIFF, PDF, PSD, AI, EPS, and SVG file types. We also accept Adobe® Photoshop® and Adobe® Illustrator® file types.
What sizes are available?
We offer 13 standard sizes ranging from 8ft x 4ft up to 14ft x 12ft.
What is the most common sizes for sporting events?
Our most popular sizes for sporting events are 12ft x 4ft, 10ft x 6ft, 14ft x 10ft, and 12ft x 8ft.
Is there a difference between "run through banners", "football run through signs", and "breakaway banners"?
This is a popular question. Each of these terms describe the same product and can be used interchangeably.
Where are these banners typically used?
This style banner is typically used for pep rallies, homecoming events, and sports games. The most popular sports these are used for are football, basketball, soccer, and cheerleading. Cheerleading run through signs are also commonly used as a backdrop during competition. 
Is the seam in the middle visible from a distance?
No. If  you are standing closely when the hook and loop fastener is connected, you can see the seam where the two sides of the banners connect. From a distance it is nearly invisible, especially with certain custom designs.
Do grommets come included with the breakaway banners?
No there are not any grommets included with the run through banner. Holding poles are inserted into pole sleeves located on both sides of the banner.
Do you offer any custom shapes?
We only offer rectangular or square shapes - in an array of sizes.
Are there any safety precautions that need to be considered when using the banner?
Always have safety in mind when running a team through the breakaway banner. It is important to educate players not to run into each other or the persons holding the banner while running through - this is a common mistake which could lead to serious injury if someone is hit or trampled. The banner is easily broken through so extreme force is not needed. It is also important to educate the people holding the banners to prepare for a loss of tension and to avoid falling backwards after the banner is separated.
There is a very low risk of injury if players and pole holders are instructed how to properly hold and run through the breakaway banners.
Printing Specs
What printing method is used for these banners?
We print using dye sublimation. This state-of-the-art printing process makes for an especially vibrant, full-color print. This premium printing method also fades at a far slower pace compared to competitors' printing methods.
Will my banner fade?
You will not have any issues with fading. We print using dye sublimation, which involves transferring the ink directly into the fabric, rather than on top of it. This makes for fantastic color reproduction as well as resistance to fading compared to other printing methods used by competitors.
Do you offer a double-sided version?
No, these breakaway banners are designed to be run through only from one side. We only offer single-sided printing.
Will my banner fade in sunlight?
Your banner should not fade in sunlight. We print using dye sublimation which involves injecting the ink directly into the fabric for a fade-resistant, full-color print. As with any printed banner, if you leave it out in the sun and rain for an extended period of time, there could be some possible fading, so we recommend storing indoors in a dry enviroment and out of sustained sunlight.
Materials and Durability
What material are your run through banners?
Our breakaway banners are made from our Display Polyester material. This polyester is wrinkle-resistant, flame-retardant, and tear-resistant. It has a glossy finish and a slight stretch. This material is perfect for this style of banner because it is durable, designed to stand up to outdoor elements, and is machine washable.
Is my banner able to be get rained on?
Yes! It is perfectly fine for your banner to get wet. Because your banner is printed using dye sublimation on a polyester fabric, there is no danger to the print if it gets wet. In fact, we recommend you clean your banner in a washing machine.
Are your breakaway banners reusable?
Yes! Our banners are designed for repeated use. They come equipped with a hook-and-loop fastener down the middle of the banner that easily separates when someone runs through it. To join the two sides of the banner again, simply press the hook-and-loop fastener back together. Also, our banners are printed on our Display Polyester, making them more durable compared to vinyl, which is offered by most of our competitors. Because our banners are made from polyester, they are also able to be machine washed as they may accrue some blemishes and marks after prolonged use.
How long will these breakaway signs last?
Our run through banners last for roughly 5-10 years. The display polyester they are printed on is used for multiple outdoor applications and is designed to be durable for a number of years.
Are there any additional materials offered?
No, not at this time. We only offer our display polyester. This is a superior material for football breakaway banners compared to vinyl. It is better to use polyester for football run through signs so they can be washed if stained during use.
If I run through the banner will there be any damage?
No, there won't be any damage if you run through the banner. The banner is designed for running through – it is crafted from durable polyester material and is designed to break away easily and uniformly with a hook and loop fastener. It is designed for repeated use.
Hardware and Accessories
How long are the poles?
The length of the pole is dependent on which size breakaway banners you order. Depending on which size banner you get, the poles extend an additional 16 inches roughly. Poles are not available separately; they are only available for sale if you purchase a banner.
Are poles included?
Poles are not included in the order but are an optional accessory for a small additional charge. If you do choose to add on the poles to your order, a high quality carry bag is also included for easy travel and safe storage.
Can I use different poles than the ones offered by Vispronet?
We recommend using our poles as these will work best for our custom breakaway banners. However, you may use your own set of poles, they must not be great than 1" in diameter to fit in the pole sleeves. If damage is caused by your own poles, it does void any satisfaction guaranteed and/or warranty.
Are the poles heavy?
Our poles are crafted from aluminum, so they are very lightweight and durable.
Setup and Installation
How many people are needed to use breakaway banners?
Multiple people are needed to assemble and complete a successful run through of the banner. The number needed to hold the banner depends on how large the banner is. For larger banners, 4-6 people might be needed to hold the banner upright during the running through process. This is usually accomplished by a cheer leading team or players and coaches.
How are the two sides of the banner connected?
Both sides of the banner are connected with a sturdy hook-and-loop fastener making it easy to reconnect and run through. 
How do I assemble my breakaway banner?
Assembly is a quick and easy task that can be competed with no tools needed. For more in-depth instructions, see the Breakaway Banner Assembly section, located above.
Lay out the two banner next to each other.
Connect the banners using the hook and loop fasteners.
Assemble the poles.
Insert the poles into the pole pockets.
Stand the banner upright.
Care and Storage
How do I store my banner?
Fold your banner tightly, and store it in a dark, dry place such as a storage closet or office. Ensure your run through banner is completely dry before placing it in storage to avoid any damage that may be caused by mold or mildew.
How should I clean my football run through banner?
To clean your breakaway banners, throw them in the washing machine on gentle setting with cold or warm water.
How should I remove any wrinkles?
There shouldn't be any wrinkles on your breakaway banner as it is printed on our wrinkle-resistant display polyester. However, if there are some small wrinkles, we recommend using a streamer to pull any small wrinkles out. We would recommend against using any hot irons as this could possibly cause damage to the fabric if too hot.
California Residents

Click here for Proposition 65 warning
Frequently Purchased With
Q & A
Reviews