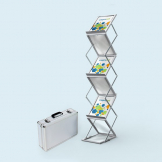 Brochure Holders and Literature Racks
Add some dimension to your paper goods with a literature holder! Our brochure holders provide an excellent way to make your magazines, brochures, menus and other paperwork stand out. To draw extra attention to your literature, check out our Aluminum Post Snap Signs, which feature durable aluminum posts and custom-printed signage. Make customers easily aware of your menu or specials with our Menu Snap Signs. These displays are a real must-have if you're seeking an eye-catching, convenient way to get your message out.
back to top
Why Do You Need A Literature Holder?
Every trade show vendor, business or other organization – no matter what industry they're in or what field they specialize in – uses printed advertising materials. Marketing materials like pamphlets and brochures are some of the most effective tools when it comes to advertising your company's products and services. Printed literature is also cost-effective because it gives sales and marketing teams access to both sides of the coin: not only does it have an economical price point, but it offers a good return on investment, as well.
So why should you get your brochure displays and literature stands from Vispronet®? Here's a little list of reasons:
Our standard roll-out brochure holder features four 10" x 12" pockets – perfect for data sheets, single-page flyers, books or catalogs.
The larger 8-pocket literature holder gives you twice the space of the 4-pocket one in two neat rows, allowing you to show your customers a wide variety of marketing materials.
Our 4-pocket foldable trade show brochure holder gives your customers easy ways to grab your information with two magazine/catalog placement areas, one on each side of the holder. When it comes time to pack up, just fold it down and pick it up in the included hard-shell travel case.
Similarly, our trade show magazine rack gives visitors an easy way to learn more about you and your company. It features four 9" x 14" x 2" display pockets, perfect for magazines and catalogs. When you're done, the rack collapses easily for travel – the included carry bag stores the literature rack for easy transportation.
Literature Racks Are Great For Promotions
Available in a multitude of styles, from comfy, easy-to-use mesh to sleek metal, our brochure display racks and literature holders are a great way to give a professional presentation style to your brochures, data sheets, catalogs and other literature.
Want to combine your brochures and other collateral together? Not a problem! All of our literature displays racks feature huge pockets (at least 9" wide in all cases), making it trivially easy to combine all of your collateral into one space.