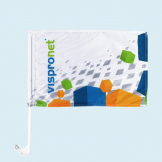 Custom Car Flags
Custom Car Flags from Vispronet® give you the opportunity to advertise and promote while you're on the go. These Car Flags with Custom Prints easily attach to vehicles and can be removed and reattached wherever you want them. Whether you want to promote your business or an event, or just express pride in your team or organization, Custom Car Flags are a great way to spread the word. Custom Car Flags are also a great item to hand out to customers, friends, family and supporters, so they can help generate buzz while they're on the road.
The Perfect Custom Car Flag Every Time
What do you want to use Custom Car Flags for? Do you want to hand them out to friends, customers and family members to better promote your business, or are you looking draw extra attention to an event? Whatever the reason, Custom Car Flags are a great advertising product to have, especially when you're on the go. With your graphics and our Custom Car Flag printing capabilities, you'll get the perfect Custom Car Flags every time!
Using Custom Car Flags
Custom Car Flags attach to a vehicle simply by rolling down a window, sliding the window mount into place and rolling the window back up. It's that easy! There are no adhesive strips involved, and the mount will not scratch your window when removed.