Custom Tents with Logos
Perfect for trade shows, markets, festivals, fundraisers, & sporting events
Water-resistant and flame-retardant polyester material
Dye sublimation print for full vibrant colors – also scratch resistant
Hook-and-loop fasteners secure tent to frame and makes for easy tear down
Frame options include: Economy, Basic, Deluxe, Compact, Pavilion, and Premium
Our artwork templates allow you to perfectly center your design on all canopies & valances
FREE Design Services | Lowest Prices | Design Online or Upload Template | 4-6 Day Turnaround | Rush Options | Free Proof | Pay Later
These tents allow you to print only in specified canopy areas
Why Choose Custom Logo Tents From Vispronet®?
When it comes to purchasing a logo canopy tent, there are two main reasons to shop from Vispronet®.
First and foremost is our custom tent with logo material.
Each of our pop up logo tents is printed on our woven polyester material. 300D or 600D polyester is flame-retardant and water-resistant. It also features a matte coating that makes it resistant to stains, UV lighting and scratches.
Second is our printing process.
We offer two different printing processes for our logo tents:
Digital Ultraviolet: Digital ultraviolet printing imparts a protective acrylic coating onto the custom logo canopy. This protective coating gives our custom logo tent canopies good scratch resistance and total lightfastness – no fading at all.
Dye Sublimation: Dye sublimation printing ingrains the tent logo design into the material, leaving the logo canopy tent with a canvas-like feel. Since the canopy logo is ingrained in the material, it is totally scratchproof while still maintaining a very good degree of lightfastness, meaning that only slight fading occurs even after days and weeks of use.
Where To Use Logo Canopy Tents
No matter if you're using our tents with logo indoors or outdoors, there are a number of ways a logo pop up canopy can be utilized to help promote your business or brand.
Probably the most common use for our pop up logo tents is at outdoor events, like festivals, trade shows, or sporting events. Our logo tents are also becoming increasingly more popular at outdoor farmer's markets and street fairs. Our customers most often use them as a business canopy, enticing visitors into their event space by showcasing their canopy logo through vibrant, full color graphics. Our custom logo tents can also be used as pit tents for amateur or semi-professional motorsports, giving your team's contender a perfect place to pit stop before, during or after an event.
Imprint Areas for Logo Print Tents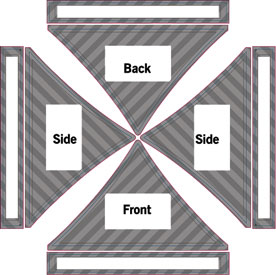 *If you're looking to print outside of the white rectangles, please see our all over print tents.
Other uses for our logo canopy tents include, hubs for fundraisers and parties, as make-up tents or changing areas, or even as a first aid station at larger events. If your company is running a summer promotion or fundraiser, consider doing so from under the shade of a logo tent. Invite your customers to park around the custom logo pop up tent while they take in what your company has to offer. Running a company function or a thank-you party for your customers? Consider getting several small or medium-sized custom tents with logos and using them as places where your guests can eat, or as hubs or stations for other activities. If your event is large enough to need it, you can even get one of our logo pop up tents for use as a first aid station – simply get it printed with the relevant colors and canopy logos and you're good to go.
Our custom tents with logos also work great for those whom conduct most or all of their business outdoors, such as caterers and photographers. Use a custom logo tent as a waiting area, a changing room, or another central location. We offer a number of different half and full wall styles, including some with doors and windows, so that you can ensure your clients and other visitors get the privacy they need.
Ordering Your Pop Up Tent with Logo Print
Our custom tents with logos are a great way to advertise your business or brand. Use a pop up logo canopy to direct traffic, bring in potential buyers and direct your customers to where they need to be to get info on your company, its products and upcoming events. No matter what you're hosting, using a pop up tent with logo print will increase your visibility, ensuring that your clients and visitors know exactly where to go. To get started with ordering one of our logo canopy tents, click one of the products we have available to see the options you can choose for each tent.
Personalized Pop Up Tent Comparison


What our customers have to say