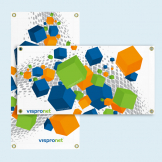 Custom Vinyl Banners
Create a big impression at an affordable cost with our line of custom-printed vinyl banner signs. Whether they're to promote a product or to welcome visitors to a celebration, you're sure to find what you're looking for in Vispronet's line of custom vinyl banner signs. These custom-made Vinyl Banners are available in a variety of sizes and finishing options so you're able to order the perfect personalized vinyl banner for your needs.
back to top
Custom-Printed Vinyl Banners for Businesses & Advertising
The most popular use for custom-printed Vinyl Banners is for advertising. Whether your business, brand or product is looking to showcase itself at a trade show, conference or elsewhere, Indoor Vinyl Banners in portrait or landscape orientation are a great addition to any trade show display booth. If you would like your banner to be hung outside, our Outdoor Vinyl Banners custom printed with your branding on weather-resistant and UV-protected material to ensure long-term outdoor use. Any of our custom printed Vinyl Banners can be hung or mounted with grommets, D-rings, loops, polyester cords and other options.
Vinyl Banners Personalized for Birthdays, Weddings, Baby Showers & More
No celebration is complete without Vinyl Banners custom printed for the occasion. A vinyl banner custom designed and printed for a birthday party, wedding, baby shower, retirement party or any other festivity. A vinyl banner personalized with your full-color design for the event is sure to stand out and make the recipient feel even more appreciative of the work you've put into making their celebration that much more special.
Custom Vinyl Banners Printed the Way You Want
Vispronet provides an assortment of layout and finishing options for custom Vinyl Banners. You can have your custom design(s) printed on one or both sides of the banner in either landscape or portrait orientation. You can also have grommets installed around your vinyl banner to make it easy to hang and display. Custom Vinyl Banners can also have a pole sleeve installed at the top of the banner so you're able to hang it from a pole.
Vispronet: Your Custom-Printed Vinyl Banners Partner
It's easy to order the perfect custom printed vinyl banner from Vispronet. You can select any of our available Vinyl Banners by clicking them above and viewing the different layout and configuration options for your custom vinyl banner. Vispronet makes it easy to order your custom designed Vinyl Banners to be printed. You'll have the ability to add grommets and other mounting accessories with your Vinyl Banners, so they're easy to hang. Simply use the configuration system by clicking "Get Started" on any product page to select the perfect custom banner for your needs.