Mazel Tov Signs
100% Customizable / Weatherproof / Fast 3-Day Turnaround
Mazel Tov Signs Details
Celebrate a special occasion with your family or friends by displaying these mazel tov signs in front of your store or home. These sparkly yard letters are easily seen and read from a driving or walking distance. The letters are printed in a silver glitter color and the set includes balloons, stars, and Star of David emojis. If you wish to customize your sign, such as what the happy occasion is or with a family name, you can add and subtract letters from the message, incorporate other special characters, and alter the color. Choose from standard 18in or 24in heights. The letters and characters are made from corrugated plastic, which is a durable material that is weather-resistant and UV-protected so that you can use it year-round. The strength of these signs also allows you to use them more than once. We also use a modern UV-printing technique for sharp colors that do not fade outdoors. Each letter comes with a stake for securing the sign to the ground. The tops of the stake fit into the small flutes between the sign layers. Let everyone know that it is a special day for you with these high-quality mazel tov signs.
Parts List:
18in or 24in corrugated plastic characters
Wide characters come with H stakes
Narrow characters come with beefy stakes
Material:
4mm Coroplast®: Weather-resistant & UV-protected lightweight corrugated plastic
Additional Notes:
Product is printed on one side (single-sided)
Faux glitter colors do not contain real glitter (mess free!)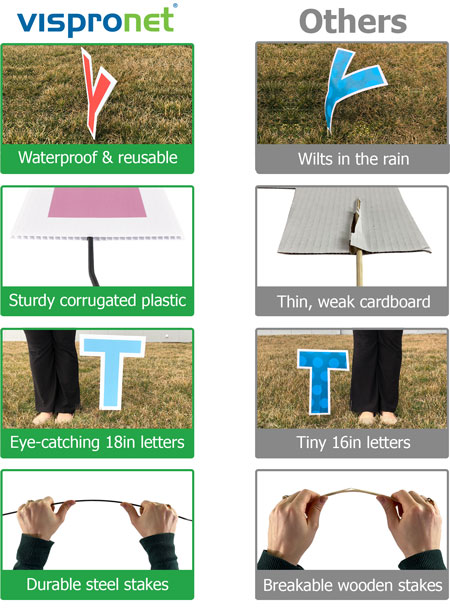 Frequently Asked Questions
General
What is the turnaround time?
Our standard turnaround time is 3 business days. If you need your Mazel Tov signs faster than our standard turnaround time, we offer rush production and expedited shipping options at checkout. To preview your delivery date, click the "Estimate Delivery" button at the top of the page.
What is the size of the signs?
Choose from two size options: 18in and 24in. Both sizes are crafted from durable 4mm corrugated plastic and are easy to spot from the road or sidewalk, making them perfect for front lawn and roadside display.
How any emojis are included with my order?
Each order includes two emojis. We offer hundreds of different emoji options to choose from so you can find the perfect characters to complement your Mazel Tov yard signs.
Can I customize the message to say something other than "Mazel Tov"?
Yes, our sign messages are completely customizable. Enter any message you would like up to 100 characters long. To customize your sign phrase, enter your message in the "Message" box listed above.
Can I customize the color of the letters?
Yes, you can customize the color of the letters. We offer dozens of different color variations to choose from including pastel, multicolor, sports patterns, and more.
Are stakes included?
Yes, stakes are included with each letter for easy installation and setup. Some signs come with our beefy stakes while others require our mini h-stakes.
Materials and Durability
What are the yard letters made from?
We craft our signs from durable 4mm corrugated plastic. This lightweight material is waterproof, UV-resistant, and designed for long term outdoor display.
Can these signs be reused?
Yes, these signs are reusable so you can use them year after year. We recommend cleaning the signs after each display to keep them looking vibrant and in pristine condition.
Are these Mazel Tov signs UV-resistant?
Yes, these signs are digitally printed with UV-resistant inks on waterproof 4mm corrugated plastic. They are safe to display in direct sunlight, even for long time periods.
California Residents

Click here for Proposition 65 warning
Frequently Purchased With
Q & A
Reviews