Custom Mesh Banners
Outdoor Tested / Wind-Resistant Design / Choose Your Material & Finish
configurable 0 0
Custom printed solutions in 3 simple steps.

1. Choose from 3 Design Methods
Click the Proceed to Artwork button to choose Design Online, Upload Template, or Free Design Services.

2. Receive & Approve Your Proof
We'll process your artwork within 2 business hours and send a proof for your approval via email.

3. We'll Bring Your Idea to Life
Our standard turnaround time is 3 business days plus shipping with expedited options available.
Custom Mesh Banners Details
Promote your business, brand, or event with outdoor mesh banners from Vispronet. Mesh banners are perforated hanging banners that are designed to let air and wind pass through with minimum effect on the banner and hanging accessories. Our wind-resistant banners are 100% customizable and can be designed with unlimited colors and designs for no extra cost. We offer our banners in two material options: Mesh Vinyl and Mesh Polyester. Both material options are designed and printed for long-term outdoor display and offer a reliable and professional advertising option for your business or event.
Material:
12oz Mesh Vinyl: Perforated weather-resistant & UV-protected matte vinyl
Mesh Polyester: Mesh-like structured knitted fabric with excellent thru-print (3.25oz/yd²)
What Are Mesh Banners?
Mesh banners are hanging banners that are specially designed for outdoor display. They are much like vinyl or fabric hanging banners, but they are perforated to let air and wind pass through during windy weather conditions and severe storms. The perforation allows the wind to travel through the banner to keep the banner in place, and to avoid any damage to the banner or hanging instruments.
Mesh banners are typically used for advertising purposes and are excellent at attracting the attention of passing traffic. These banners are displayed alongside large chain-link fences or up against popular structures like sports arenas, building facades, and bridges. They are also commonly showcased across popular roadways and underpasses to increase awareness for upcoming community festivals, shows, and events.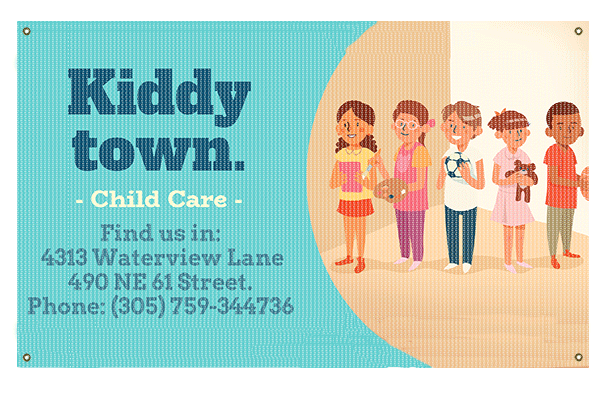 Choose Your Material
Choose between durable 12oz vinyl mesh or knitted polyester mesh. Both materials will not tear or fray in the wind like traditional hanging banners.

Standard and Custom Sizes
Choose from over 15 standard sizes or create your own custom size between 10in x 10in and 8ft x 50ft.

Premium Quality Printing
Vinyl mesh banners are digitally printed with UV-resistant inks and fabric mesh banners are printed using dye sublimation for vibrant, full-color prints.

Outdoor Tested
These banner can withstand rain, wind, snow, and direct sunlight without any worry of tearing, fraying, or ripping from windy weather conditions or strong storms.

Wind-Resistant Banners
Mesh banners are designed to let wind pass through the banner without causing any stress or damage to the banner or hanging instruments.
How to Design Your Custom Mesh Banners
Choose one of the methods below to design your outdoor mesh banners. Each option suites different preferences and levels of design expertise. All artwork submissions are checked by our pre-press team for any errors before being approved for print.
Design Online: Use our design suite to create your artwork online, in real time. You can upload logos, images, and artwork right from your computer and it includes features like clip art, font options, background designs, and more.
Upload Artwork Template: This design method is recommended for users with professional design software. It involves downloading the artwork template, adding your custom artwork using a design program, and reuploading the completed template to our website.
Free Design Services: We can design your mesh banners for you – free of charge. Send our team of designers some artwork inspiration or ideas, and they will work with you until the artwork is completed.
Choose Your Banner Material
Unlike most competitors, we offer two mesh material options to choose from: Vinyl and Polyester. Both materials are of high quality, and each is designed to display outdoors. Read below to find the best material option for your custom mesh banners.
12oz Mesh Vinyl
Our vinyl mesh banners have a 40% wind blow-through rate and display a matte finish. Mesh vinyl banners are digitally printed with UV-resistant inks for safe display in direct sunlight. This vinyl can be displayed outdoors for long periods of time and is the same material we use for our fence banners.
Mesh Polyester
The polyester is the premium material option offered for this product. This knitted fabric is lightweight and flies well. It is made with a durable mesh structure that won't tear or rip in high-wind applications. The mesh polyester is printed using dye sublimation, a premium printing technique that makes high-color, vibrant prints.
Mesh Banner Printing & Finishing Options
It's easy to order the perfect custom printed mesh banner from Vispronet. Select from multiple materials and finishing options. Finishing options are included for no extra price. Choose between grommets, pole sleeves, hemmed sides, or cut tides. Multiple hanging accessories are also offered for an easy setup and installation process. Click the "Proceed to Artwork" button above to get started on your banner design.
Where Are Outdoor Mesh Banners Displayed?
Need a custom-printed banner that can withstand harsh weather conditions? These custom mesh banners are resilient to withstand inclement weather conditions and are designed for long term display. Mesh street banners are used to advertise an array of different events, venues, and businesses including:
Construction companies to hide unsightly areas and promote an upcoming project
Concert and sports arenas to promote future shows and events
Mesh street banners to advertise upcoming city events and projects
Amusement parks to showcase a new attractions and park additions
Aquariums, museums, and other educational facilities to showcase an upcoming exhibit
Marathons and other athletic venues to showcase sponsors & business logos
Universities that wish to thank a sponsor or recognize a special achievement
Frequently Asked Questions
What is the turnaround time?
Our standard turnaround time is 3 business days for production plus shipping times. If you need your banner by a certain deadline, you are able to select expedited production and shipping options at checkout for an additional cost.
What materials options do you offer?
12oz Mesh Vinyl: Our mesh vinyl banners are made from perforated vinyl with 60% banner and 40% wind blow-through. They are digitally printed with UV-resistant inks, so it is safe to display them in direct sunlight.
Mesh Polyester: The mesh polyester is a knitted lightweight fabric with a durable mesh structure that won't tear or rip in high-wind applications. This material is printed via dye sublimation, a high-end printing technique that produces bright, full color graphics.
How long will my custom mesh banners last?
These banners able to be displayed for multiple years before showing signs or wear. The lifespan depends on sun exposure, with more sun exposure leading to a faster product life.
Will these work for street poles?
No, these would not be the best product for street pole display. If you are looking for banners that can attach to street poles or for horizontal wall display, check out our custom pole banners.
Are grommets included with the outdoor mesh banners?
Yes, grommets are included if that is the Finish you select. When configurating your banner, choose between from multiple finishing options including grommets, pole pockets, hemmed sides, or cut sides.
Do you offer custom size mesh banners?
Yes, we offer mesh banner printing for custom sizes. Choose from over 15 standard sizes or create your own custom size between 10in x 10in and 8ft x 50ft.
Are you able to print double sided?
We are not able to print our mesh banners double sided. If you looking for double sided vinyl banner printing, click here.
Satisfied Customers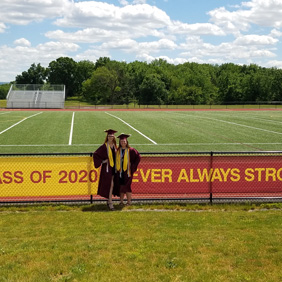 California Residents

Click here for Proposition 65 warning
Frequently Purchased With
Q & A
Mesh Banners Reviews