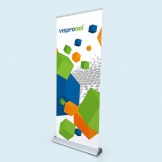 Retractable Roll Up Banner Stands
These roll up banner stands are simple, but stylish, banner stands perfect for trade shows, show rooms, bank lobbies, hotels and restaurants. Roll Up retractable banner displays are quickly set up by extending the print from the spring-loaded base and attaching it to the support pole. Teardown is just as quick, achieved by removing the support pole and allowing the banner to slowly reel into the base. The included carrying cases add convenience to these displays. You will receive the hardware with your print(s) installed.
back to top
What's different about Vispronet's Rectractable Banner Stands?
The Vispronet production team is dedicated to providing you with a quality product that looks great and makes an impression. Our pop up banner stands are made from high-quality aluminum, and your roll up banner is custom printed on one of three high-quality banner materials. In short, you're getting the best possible custom pull up banner stand solution at the best price.
Stand Up Banners Are Easily Set Up, No Tools Required
Our Roll Up retractable banner stands have a simple setup and require no tools. They store away easily in their provided carrying case, making them great for trade shows, lobbies and other indoor advertising applications. Both the rollup standard and roll up deluxe models are constructed of aluminum, and are available in Single-Sided and Dual-Sided models.
Where Can You Use Your Roll Up Banner Stands?
Since these pull up banner stands are fully portable, you can use them in whatever indoor application you want. Vispronet's custom roll up banners have been displayed at:
Trade shows and events
Movie theaters
Car showrooms
Retail sales locations
Hotel foyers
And more!
Retractable Banners Are An Eye-Catching Trade Show & Advertising Solution
Vispronet's roll up banner stands are an efficient way to advertise to your targeted audience and make for an attention grabbing marketing solution at trade shows, conferences and more, especially when complemented with any of our trade show systems products. With a quick turnaround time, the best materials and high-quality hardware, Vispronet is the perfect partner for your retractable roll up banner stands.
Retractable Roll Up Banner Stand Comparison