Custom Yard Signs
Single or Double Sided / Weather-Resistant / Full Color Printing
configurable 0 0
Custom printed solutions in 3 simple steps.

1. Choose from 3 Design Methods
Click the Proceed to Artwork button to choose Design Online, Upload Template, or Free Design Services.

2. Receive & Approve Your Proof
We'll process your artwork within 2 business hours and send a proof for your approval via email.

3. We'll Bring Your Idea to Life
Our standard turnaround time is 3 business days plus shipping with expedited options available.
Custom Yard Signs Details
Parts List:
Custom printed sign finished with cut sides and optional punched holes or grommets in corners
Optional sign stakes (details below)
Material:
4mm Coroplast®: Weather-resistant & UV-protected lightweight corrugated plastic
Custom Yard Signs for Cheap
Whether you're advertising an upcoming yard sale or are trying to raise brand awareness for a new business, yard signs are one of the most effective forms of advertising. They are also highly-affordable, offering a cost effective way to attract the attention of a passing audience without breaking the bank. Yard signs with stakes are like larger business cards that you place in a yard rather than hand out. They are often staked into front yards and building entrances to notify drivers and passersby of business, political, and personal messages. Lawn signs don't just have to be used in yards; they can also be bought without ground stakes and can be framed on bulletin boards or mounted as room or office decorations. We include grommet and hole punch finishing options for turning custom yard signs into hanging displays.
One of the most popular types of businesses to utilize custom made yard signs is real estate companies. These businesses use custom lawn signs to let potential buyers know which homes are for sale or to advertise from the yard of one of their clients. Unlike the low quality and cheap business yard signs offered by some competitors, our 4mm corrugated plastic signs are designed for long-term display and won't deteriorate if displayed outdoors, even in wet weather conditions.
Design Custom Yard Signs Online
At Vispronet, we provide three unique ways for our customers to design their yard signs online. All methods receive a free proof before your approval before we print or ship your order for your convenience. You can choose to submit your artwork at any time - before or after placing your order. 
Design Online: Add artwork and customize the lawn sign template in our free design tool in real-time. Here you can upload your business logos, images, choose from a selection of fonts, clip arts, and background, and more. When you're done, finish and save your design and our graphics department will proof your design to make sure it meets our printing standards.
Upload Artwork Template: This option is for our tech-savvy customers who are more comfortable adding their artwork to the template file using their own graphic design software. Our template download links dynamically change as you choose the size and single or double sided printing options for your lawn signs. After you've configured your product, download the template, insert your artwork, and reupload the finished design templates to our website before or after placing your order. 
Free Design Services: Need help coming up with a design for your business or campaign? If you don't have the time, energy, or resources to design your custom yard signs - we are here to help! Choose our free design services and our professional graphic designers will design your yard signs at no extra cost. 
Cheap Yard Sign Printing in Unlimited Colors
Print your custom yard signs in unlimited colors with our CMYK color process. Unlike other vendors who charge per color, we offer full color printing for one small fee - no matter the amount of colors used in your design. All our yard signs are digitally printed with UV-inks to ensure the print does not fade during extensive outdoor use. In addition to our set full color price, we offer our yard signs with no minimum order quantity to accommodate our valued customers. Although these are priced as cheap yard signs, our signs can be reused for years of outdoor display! 
Single or Double Sided Printing
We offer printing on the whole corrugated plastic yard sign with single or double-sided print options. If you are planning on displaying your lawn sign in an area where only one side will be visible, you can save money by ordering one sided printing. For the double sided yard signs, the artwork will be showcased on both sides. This is an ideal option for areas with a lot of foot traffic so that people coming from different directions can read your custom yard signs.
Assembling Your Custom Yard Signs
Our custom yard signs with stakes can be set up in a few minutes without the need for tools. Our yard signs have the option of coming with display hardware, such as a beefy stake or an H-stake. Depending on the size of the sign, more than one beefy stake or H-stake might need to be applied. These yard sign stakes are easily pushed into the ground or any soft surface until they are taut. For the H-stakes, pressure can be applied to the middle for easier assembly.
Yard Sign Installation
Once the stakes are inserted into the ground, the sign is added by inserting the top of the stakes through the flutes of the sign. The fluting is the section between the two plastic sheets. This is all that is required to set up the lawn signs with these stakes. If you are using the real estate sign hardware, the frame is placed into the ground the same way, but the sign is attached with the included push buttons. The buttons connect to each other by being pressed through the holes on the corners of the sign and frame.
If you would like to see a step-by-step process of how to set up these advertising signs, we include instructional videos on all the product pages.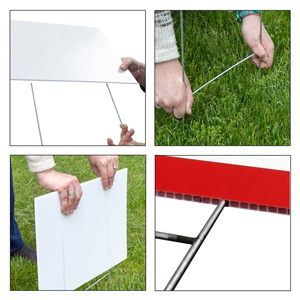 Sign Stake Specifications
Model
Part Number
Specs
Size
Weight
Use With
Beefy Stake
AC0180
9 gauge titanium byproduct spring steel
26in x 0.15in x 0.15in
0.2lbs
Works with any size sign (must use 2 per sign)
Place every 12in for best support
10in x 15in H Stake
AC0152
9 gauge zinc-plated steel
10in x 15in x 0.16in
0.2lbs
Works best with 24in x 18in and smaller signs
Place every 18in for best support
10in x 24in H Stake
AC0154
9 gauge zinc-plated steel
10in x 24in x 0.25in
0.3lbs
Works best with 24in x 24in and smaller signs
Place every 24in for best support
10in x 30in H Stake
AC0153
9 gauge zinc-plated steel
10in x 30in x 0.16in
0.4lbs
Works best with 36in x 24in and smaller signs
Place every 36in for best support
Custom Yard Signs - Frequently Asked Questions
General
What is the turnaround time?
We offer a standard 3 day turnaround time for our business yard signs with expedited options available. Our Delivery Estimator at the top of the page outlines all of our shipping and production times so that you can receive your order when you need it.
How do I design my yard signs?
We offer three easy methods to design your signs: Design Online, Upload Artwork, and Free Design Service. All design methods are risk free and receive a free design proof for your approval.
What types of files do you accept?
We accept multiple different file types. These include JPEG, PNG, TIFF, PDF, PSD, AI, EPS, and SVG file types. We also accept Adobe® Photoshop® and Adobe® Illustrator® file types.
What are the smallest and largest yard sign size options?
We carry set sizes from 12in x 9in up to 48in x 48in. We offer custom sizes in 10-48in widths and heights. These sizes ensure that these custom yard signs will fit the stakes.
Do you have yard signs available in pre-cut stock shapes?
We offer two different die-cut shape custom yard signs. We offer products for both stock shapes and custom shapes. The stock shape product gives you the option to select a different shape than the traditional rectangle, including a house, a flower, and oval, and more. Custom shapes, on the other hand, allow you to design your own shape for us to cut.
Can I order a blank yard sign?
If you would rather write on our corrugated plastic material or staple fabric over it as your own DIY project, we have the option to order a blank sign. If you go to our custom products, you can fill out the configurator for the size and hardware, but when you get to the template leave it blank. We will then send you a blank white yard sign for you to use.
How much do our yard signs cost?
As low as $1.59 per 18" x 12" sign (unlimited colors) in quantities of 100+. We offer cheap lawn signs at the highest quality in the industry. Compared to suppliers, our yard signs are available at more affordable prices and built from 4mm Coroplast material that is guaranteed to last. Another benefit over other cheap yard signs companies is that we don't charge per color printed on your signs. We offer unlimited, full color printing for one low-cost price. The overall price depends on the size, single or double sided printing, stakes or no stakes, and the quantity of your order. Bulk discounts are applied for large orders and there are no minimum order quantities to accommodate all our potential customers.
Printing Specs
What kind of printing is used?
These advertising signs are digitally printed using UV resistant inks. This form of yard sign printing creates striking, eye-catching colors and the graphic will not peel or rub off from the outdoor weather. Unlike the cheap yard signs offered by other vendors, our signs are crafted to last through long-term outdoor display.
Do you offer printing on both sides of the custom yard signs?
Yes, we offer both single-sided and double print options. The single-sided option will only have the image printed on one side of the lawn sign. The double print will have the image printed on the front and the back for more exposure.
Will the signs cost more if a lot of colors are used?
No. Our mission is to offer high-quality, cost-efficient yard signs at all-time low prices. We offer the same discounted price no matter the amount of colors printed on your signs.
Materials and Durability
What material are the advertising yard signs made from? Can they withstand outdoor conditions?
These custom yard signs are made from 4mm corrugated plastic, which is more durable than cheap alternatives. This material is designed for outdoor use due to its weather-resistance and UV-protection. The material is very lightweight, however, and shouldn't be left out in very windy conditions.
What is the lifespan of your yard signs?
These custom yard signs are designed to last for at least 2 years. Because they are UV-printed on durable 4mm corrugated plastic, they can be used over and over again without showing any signs of wear and tear.
Can I display my yard signs indoors?
Yes, certainly. We have customers who display these signs indoors, and on the inside of windows. We offer two additional finishing options if you would like to hang your sign indoors: Grommets and punched holes. Both options make it easy to hang your signs using rope or sting.
How thick is the material?
The corrugated plastic material is 4mm thick. Unlike the cheap yard signs offered by some competitors, our plastic yard signs are thick enough to withstand different weather conditions including rain and snow.
Is the material strong enough to be reused?
Yes! Corrugated plastic is very lightweight, but that does not mean it is flimsy. Unlike the cheap yard signs offered by competitors, this material can handle regular outdoor conditions and still be in great shape due to its weather resistance and UV protection. This allows you to use the discount yard signs for more than one occasion.
Finishing Accessories and Hardware
Can I get grommets on my signs?
Yes, we offer two additional finishing options: Punched holes or grommets in all four corners. Grommets and punched holes make it easy to hang your sign using rope or string. Grommets reinforce the punched holes to ensure they don't rip when on display.
What's the difference between the stake options?
We have the option for ordering a beefy stake or an H stake with your yard signs order. The beefy stake is made from titanium and works will all the yard sign sizes we carry. It should be placed every 12in on the sign to evenly distribute support. The steel H stakes come in three sizes to suit the different sign sizes we offer. Only one needs to be staked to the ground to support the whole sign.
Setup and Care
How do I clean my yard sign?
If you want a long life for your custom yard signs, it is important to keep them clean. If your sign is being displayed indoors, a simple damp cloth can be used to remove dust. If the sign is being used outdoors, then use a damp cloth with warm water and mild soap detergent to remove dirt and debris.
How should I store them?
Another way to ensure a long sign life is to store them properly. The lawn signs should be kept in a dry room that will not get hot or humid. The advertising signs should be removed from the stakes when being kept in a closet or basement so that the hardware will not scratch the print. It is also important to place the signs in a place where they will not get bent. If the signs bend and crease, it will be permanent.
Satisfied Customers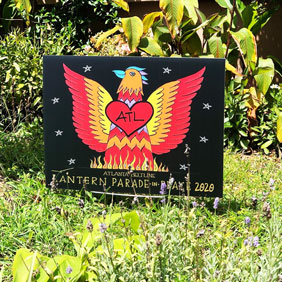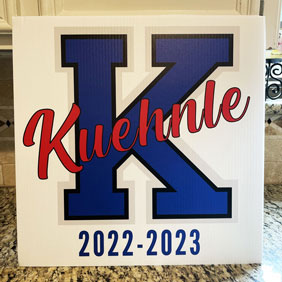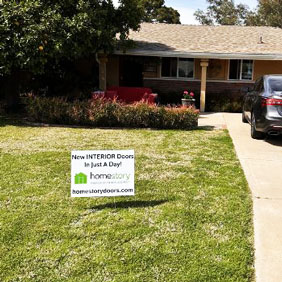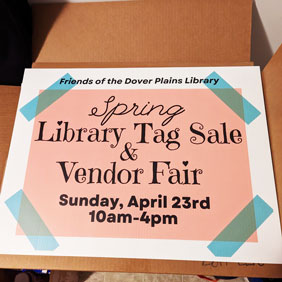 California Residents

Click here for Proposition 65 warning
Custom Yard Signs & Stakes Demo
Frequently Purchased With
Q & A
Reviews