configurable00

Need help? Hire one of our professional graphic designers at no additional cost!

Choose 'Pay Later' at checkout and receive a free proof
before submitting payment.

Design Online or Upload Template
Create custom products using our online design tool or provided template files.
Pop Up Portable Booth 9.8ft x 7.4ft Details
As our top-selling pop-up portable booth, this 10ft trade show backdrop is perfect for businesses of all sizes that are looking to achieve a professional and attention-demanding presence at conferences and exhibitions. Your custom, full color graphics & logo are printed onto a wrinkle-resistant polyester wrap that easily attaches to the aluminum frame with hook-and-loop adhesive. Choose between two knitted polyester materials for your dye-sublimated banner - our Display Polyester that is nearly fully light-blocking and allows for a small amount of light to pass through, or our Premium Opaque Polyester option that 100% blocks all light from passing through the fabric. With this pop-up display, you can customize the just the front or add the optional left and right sides of the banner for a seamless appearance. Our state-of-the-art printing method guarantees a bold and vibrant color reproduction of your custom graphics that is scratch and fade-resistant. Remove or replace the interchangeable banners with new ones containing different graphics and simply throw soiled banners into the washing machine for easy cleaning. Our product configurator allows you to order replacement prints, hardware, or both for a complete display. This pop-up display is compatible with a number or halogen and LED light options that can be found on the 'Accessories' tab to illuminate the backdrop. Stand out at your next event with one of our must-have 9.8' x 7.4' premium pop up booths!
Parts List:
Your custom print installed upon delivery
Aluminum pop up frame
Carry bag
Material Options:
Display Polyester: Nearly opaque flame-retardant knitted fabric (6.10oz/yd²)
Premium Opaque Polyester: 100% opaque flame-retardant knitted fabric (7.67oz/yd²)
Additional Notes:
Display fits up to 2 Pop Up Portable Booth Lights
Size Specifications
Part Number
Print Size
Overall Size
Weight
DI3002
9.8ft x 7.4ft (without sides)
11.8ft x 7.4ft (with sides)
9.8ft x 7.4ft x 1ft
27lbs
Satisfied Customers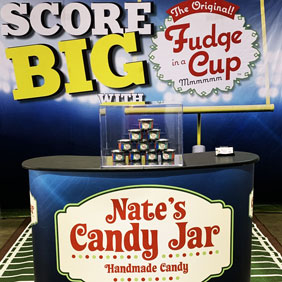 California Residents

Click here for Proposition 65 warning
Stabilizing Feet Live Demo
Frequently Purchased With
Q & A