configurable 0 0
Custom printed solutions in 3 simple steps.

1. Choose from 3 Design Methods
Click the Proceed to Artwork button to choose Design Online, Upload Template, or Free Design Services.

2. Receive & Approve Your Proof
We'll process your artwork within 2 business hours and send a proof for your approval via email.

3. We'll Bring Your Idea to Life
Our standard turnaround time is 3 business days plus shipping with expedited options available.
Custom Birthday Banners Details
Wish a friend or a family member well on their special day by personalizing a message on custom birthday banners. Set up these banners for indoor and outdoor celebrations due to the versatile vinyl materials available. Vinyl withstands all kinds of weather to suit different party settings. Not only is the material durable, but so is the custom print. We use a modern digital printing technique that creates vivid, full colors that will not scratch or peel. These vinyl birthday banners are fully customizable to accommodate names, ages, and photos of the boy or girl turning a year older. Find a size to suit any location by viewing our list of popular banner sizes or, if you do not see what you are looking for, enter your own dimensions. Design personalised birthday banners that someone will never forget, whether it is their 1st or 50th birthday.
Material:
12oz Mesh Vinyl: Perforated weather-resistant & UV-protected matte vinyl
13oz Indoor Vinyl: Weather-resistant & UV-protected matte vinyl
13oz Indoor Opaque Vinyl: 100% opaque weather-resistant & UV-protected satin vinyl
18oz Opaque Vinyl: 100% opaque weather-resistant & UV-protected satin vinyl
23oz Opaque Vinyl: 100% opaque heavy-duty weather-resistant & UV-protected satin vinyl
Design Custom Birthday Banners Online
We have three ways to design these personalised birthday banners to suit different levels of expertise and preferences:
Design Online: Add birthday photos to the banner, clipart with party theming, bright colors, and large, eye-catching text in our design tool. Our online design tool is easy to use and creates complete designs in no time. You can also upload personal photos and business logos to the customized birthday banners online.
Upload Artwork Template: Would you rather customize birthday banners on a software program on your computer? No problem! Download the banner template by clicking the link and upload the file onto your program. You can reupload the personalized birthday banners template before or after placing your order.
Free Design Services: Do you need some help coming up with birthday banner ideas for your design? Our professional graphic designers are here to assist you. Let us know if you have any specifications you want in your banner print and they will create an artwork proof free of charge.
Vinyl Options
Indoor
Custom birthday banners are common for indoor and outdoor parties. To select which vinyl material is right for your banner, you need to know where the banner will be set up and for how long. If the banner is for indoor display, such as in a party venue or your home, there are two vinyl materials to choose from. There is an Indoor Vinyl and an Indoor Opaque Vinyl. Both materials are durable so that you can use the personalized birthday banners year after year rather than having to always order new ones. This is because these materials are weather-resistant and UV-protected so that the banner and print remain in great shape. The difference between these materials is that the Indoor Vinyl has a matte feel while the Indoor Opaque Vinyl has a smoother satin finish.
Outdoor
If, on the other hand, your custom birthday banners are for outdoor use, such as a backyard or at a park, then there are three vinyl options to select from. For placing the banner in a windy location or on a fence, we recommend the Mesh Vinyl. This option is perforated, which allows the wind to pass through the banner rather than push against the material. This will keep the banner in excellent condition for reusability. Two other materials we offer are 18oz and 23oz Opaque Vinyl. These materials offer weather resistance and UV protection, but have different weights. The 18oz option is for lighter, shorter term outdoor use while the 23oz version is for heavier duty. Both materials are great for placing the vinyl birthday banners on porches, against a wall, or on an outdoor post.
Custom Birthday Banners Finishing Options
Choosing which finishing your custom birthday banners should have relies on how your banner will be set up:
Grommets: If you are hanging your banner with bungee cords from a ceiling, a post, or a wall, choose adding grommets. You can get grommets on the four corners of the banner or on every 1.5ft of material, which is ideal for long banners.
Ultra-Strong Adhesive Tabs: Another finishing alternative for hanging the banner with bungee cords is adhesive tabs. Choose between getting the tabs on the four corners of the banner or, if the banner is large, around the perimeter.
Pole Pockets: If you are using a pole set to secure your banner to hardware, such as a banner stand, select getting pole pockets. Choose between getting pole pockets on the top or the top and the bottom of your banner.
Hemmed Sides: If you are displaying the personalized birthday banners without hardware, such as tacking them to a wall or a door, hemmed sides are a great choice. Having the sides hemmed prevents them from ripping or tearing so the banner can be set up year after year.
Cut Sides: If you are placing the custom birthday banners in a frame or on a canvas or need the classic look for a simple display, you can get all the sides cut. This is a great option for light outdoor use, such as a one-time party, or long-term indoor use.
Satisfied Customers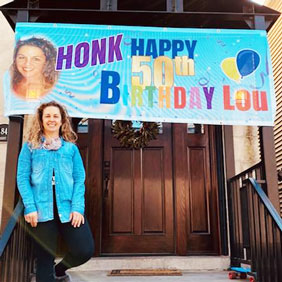 California Residents

Click here for Proposition 65 warning
Q & A
Reviews