Custom Feather Flags
Single or Double Sided / Outdoor & Indoor Use / Weather-Resistant
The #1 Feather Flags Cheap
Industry-Low, Transparent Pricing
Tear-Resistant Polyester Material
Premium Pole Sets That Resist 63mph Winds
Fast Turnaround Times
Risk-Free Ordering with Pay Later at Checkout
Free Proof with Every Order
Free Design Services
Free Shipping
Pre-Printed Feather Flags - $27.99 + Free Shipping

configurable 0 0
Custom printed solutions in 3 simple steps.

1. Choose from 3 Design Methods
Click the Proceed to Artwork button to choose Design Online, Upload Template, or Free Design Services.

2. Receive & Approve Your Proof
We'll process your artwork within 2 business hours and send a proof for your approval via email.

3. We'll Bring Your Idea to Life
Our standard turnaround time is 3 business days plus shipping with expedited options available.
Custom Feather Flags Details
Parts List:
Your custom-printed flag
Feather flag pole set
Standard ground stake or cross stand with weight bag
Optional upgraded carrying case
Material:
Outdoor Flag Polyester: Tear-resistant lightweight knitted fabric with excellent thru-print (3.25oz/yd²)
Mesh Polyester: Mesh-like structured knitted fabric with excellent thru-print (3.25oz/yd²)
Standard Pole Set:
Aluminum and fiberglass construction
Single-reverse flags withstand 30mph winds
Double sided feather flags withstand 17mph winds
Recommended for indoor use or outdoors in low winds
Premium Pole Set:
Aviation-grade fiberglass construction
Single-reverse flags withstand 63mph winds
Double sided feather flags withstand 46mph winds
Recommended for outdoor use
Additional Notes:
Disclaimer:
Do not use near overhead wires or allow flag to blow against structures. Allow a 4ft-12ft radius from base for flag clearance depending on size. See assembly sheet for complete instructions.
Standard Pole Set Specifications
Size
Part Number
Flag Size
Height Above Ground
Weight
Bottom Pole Diameter
XXSmall
BO0101
1.3ft x 3.1ft
4.1ft
0.5lbs
Inner: 17mm (+/- 0.2mm)
Outer:19mm (+/- 0.2mm)
XSmall
BO0120
1.6ft x 4.9ft
5.9ft
0.7lbs
Inner: 17mm (+/- 0.2mm)
Outer: 19mm (+/- 0.2mm)
Small
BO0130
1.8ft x 6.6ft
8.2ft
0.8lbs
Inner: 17mm (+/- 0.2mm)
Outer: 19mm (+/- 0.2mm)
Medium
BO0131
2ft x 8.5ft
10.2ft
1lbs
Inner: 17mm (+/- 0.2mm)
Outer: 19mm (+/- 0.2mm)
Large
BO0135
2.6ft x 11.2ft
13.5ft
1.4lbs
Inner: 17mm (+/- 0.2mm)
Outer: 19mm (+/- 0.2mm)
XLarge
BO0138
2.8ft x 14.8ft
17.1ft
2lbs
Inner: 17mm (+/- 0.2mm)
Outer: 25mm (+/- 0.2mm)
Premium Pole Set Specifications
Size
Part Number
Flag Size
Height Above Ground
Weight
Bottom Pole Diameter
Medium
BO0212
2ft x 8.5ft
10.2ft
1.1lbs
Inner: 17mm (+/- 0.2mm)
Outer: 26mm (+/- 0.2mm)
Large
BO0312
2.6ft x 11.2ft
13ft
1.4lbs
Inner: 17mm (+/- 0.2mm)
Outer: 26mm (+/- 0.2mm)
XLarge
BO0412
2.8ft x 14.8ft
17.7ft
2.1lbs
Inner: 17mm (+/- 0.2mm)
Outer: 26mm (+/- 0.2mm)
Satisfied Customers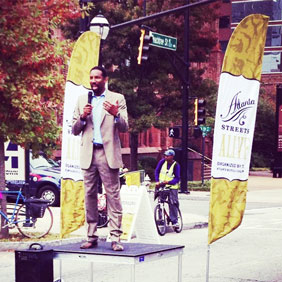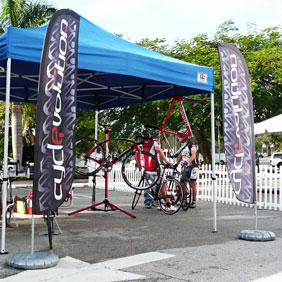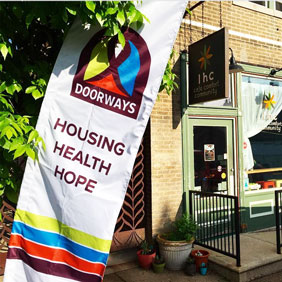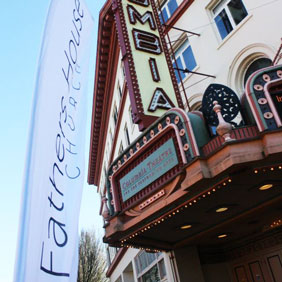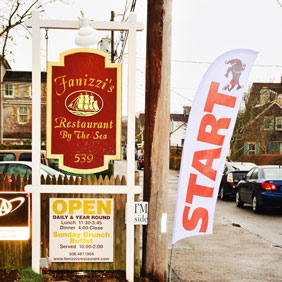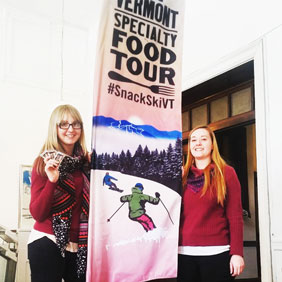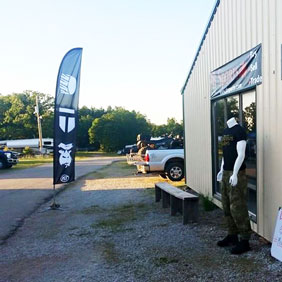 What Are Feather Flags?
Feather flags are the road-side advertising banners you probably see on a daily-basis. They often showcase messages like "open" or "now hiring". Custom printed feather flags have become popular advertising tools for not only businesses, but events as well, to display custom messages, brand logos, or artwork. These flags typically resemble a feather but are also available in different shapes and sizes. Feather flag signs are made of snap-assembly aluminum or fiberglass poles, a super-knitted polyester flag, and a base to support the display.
Common Synonyms for Custom Feather Flags
After being in the advertising display industry for over a decade, we've heard feather flags called a variety of different terms. Some popular synonyms include: beach flags, swooper flags, flutter flags, teardrop flags or banners, flag banner signs, advertising banner flags, wind flags for advertising, blade flags, feather signs, and feather banners. 
Customize Your Own Feather Flag in 6 Simple Steps
Select a shape - Angled, Concave, Convex, or Straight.
Pick the height - ranging from 4ft all the way up to 17ft.
Opt for single-reverse or double sided feather flags.
Pick the material for your flag - Outdoor Flag Polyester or Mesh Polyester
Choose between two pole set and base options - standard/premium poles & a ground stake or cross base.
Determine how you will design the feather flag banners artwork template - Design Online, Upload Template, or Free Design Services.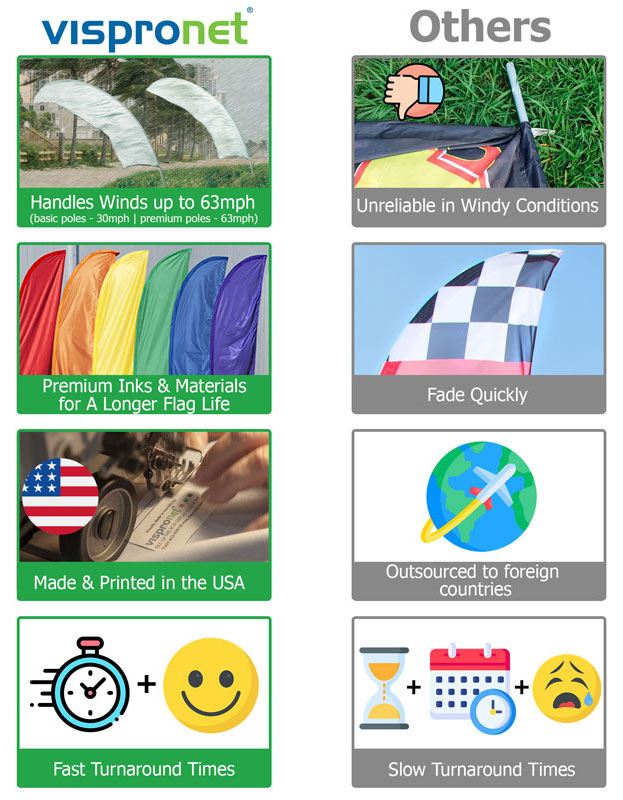 ---
1. Choose Your Feather Flag Shape
Our custom feather flags are available in five different shapes. Each shape is produced from the same high-quality super-knitted polyester material and is cut and sewn in-house at our facilty. All flutter flags are offered at the same price - no matter the shape. Select your preferred shape in the product configuration.
Concave – This style feather banner includes a curved bottom and spine.
Convex – A flutter flag with a curve on both the top and bottom of the flag - like a feather.
Angled – This swooper flag features an angled bottom and a swooped spine.
Straight – Slice up the competition with this blade flag, which can be seen on the right. The Straight style features a flat bottom.
Shape Options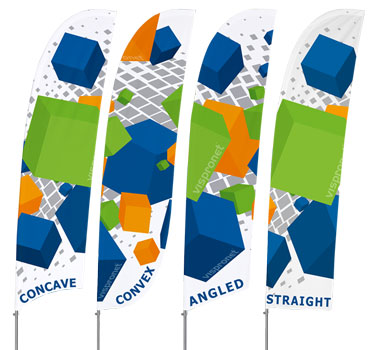 ---
2. Choose the Height of Your Feather Flags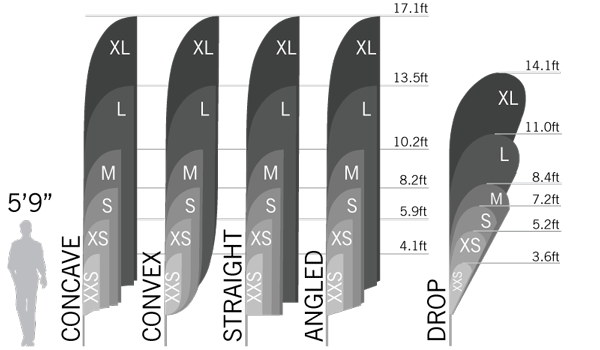 Available heights for a custom feather flags range from 4.1 feet (XXS) to 17.1 feet (XLarge). Each height is available with the same base, case, shape, and printing options. The teardrop flag has its own unique heights ranging from 3.6 feet (XXS) to 14.1 feet (XL).
All of our pre-printed business flags are 13.5 feet in height (Large).
See the graphic on the right for a height comparison.
---
3. Print Options
Single-sided Feather Flags
Single-sided feather flags are printed on one side only with the print bleed through to create a reverse image on the opposite side of the flag. These feather signs are great for quick passing traffic such as a busy road or train stop, especially if the traffic is going one way. Your design will be visible on both sides, but not as defined or vibrant as a double sided feather flags.
Double Sided Feather Flags
Double sided feather flags are perfect for applications where you need a print clearly visible from both sides or two different designs on each side of the flag. The double sided feather flags feature allows for a richer, more vibrant print on each side, or displaying two different messages on each side of the flag. To create this effect, two custom feather flags are sewn together with a piece of fabric in between to block out any light from shining through. This style is most beneficial when the traffic is moving more slowly, such as a sidewalk or a city avenue because it is much more detailed and can display two separate messages. If you are unsure of which would be best for your application, our customer service team will be happy to help.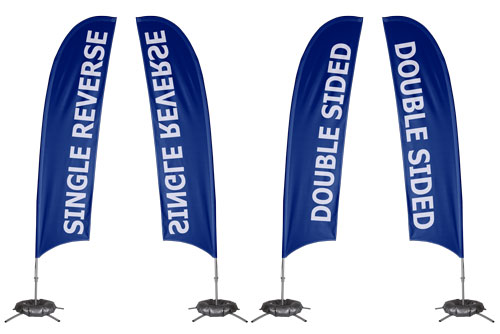 ---
4. Choose Your Material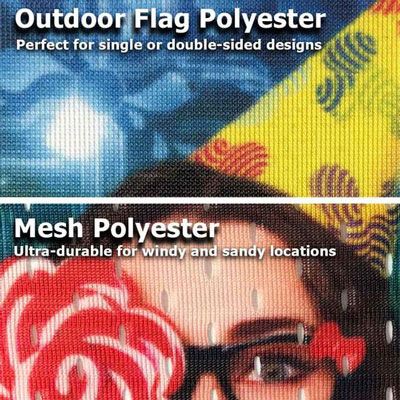 We offer our feather flags in two different material options. Both are designed to withstand outdoor weather conditions but each material offers different advantages for certain applications. Read below to find the right material for your flag banners.
Outdoor Flag Polyester
Outdoor flag polyester is our most popular material option for flags. It is a long-lasting, reliable, and outdoor-tested material offered at the most economical price. Outdoor flag polyester is best for standard feather flag applications in low to moderate wind areas. This material can be printed single-reverse or double-sided.
Mesh Polyester
The mesh polyester is a lightweight material that boasts superior durability. It features a tighter knit than the standard flag polyester, making it great for sandy and/or windy applications. Due to the material's mesh structure, it allows wind and sand particles to pass through the feather flag more freely, causing less deterioration on the polyester fibers over time. Mesh polyester can only be printed in single-reverse.
---
5. Choose Your Feather Flag Pole Set
Standard Pole Sets
Custom feather banners with standard pole sets are recommended for indoor or outdoor use in low-wind areas (up to 30mph). All feather banners with standard pole sets are available in six sizes, from 4.1 feet to 17.1 feet for all shapes except for the Teardrop Flag, which can measure anywhere from 3.6 feet to 14.1 feet in height.
Standard pole sets are made from aluminum and fiberglass.
Premium Pole Sets
If you're looking for feather banners to use exclusively outdoors, or are looking for a size larger than 17.1ft, then we recommend the upgraded premium pole sets. The premium pole set is more durable and made to be used in high-wind areas. Single-reverse flags have a wind-rating of 55 mph to 63 mph and double sided feather flags can withstand winds between 36mph and 46mph. Our Premium Pole Sets are available in three sizes, ranging from 10.2ft to 17.7ft, except the Teardrop Feather Flag, which ranges from 8.4ft to 14.4ft.
All Premium Pole Sets are made from aviation-grade fiberglass.
View all feather flag poles.
Standard Pole Set Specifications:
Indoor/outdoor use
30 mph wind-rating
Six sizes available: 4ft to 17ft
Constructed from aluminum & fiberglass
Premium Pole Set Specifications:
Outdoor use
63 mph wind-rating for single-sided
46 mph wind-rating for double sided feather flags
Three sizes available: 10ft, 13ft, 18ft
Constructed of aviation-grade fiberglass
---
6. Design Custom Feather Flags Online
We offer three different options for our customers to design their custom feather flags. These options include:
Design Online: Our Online design tool allows you to completely customize your feather banners without any professional design software needed. The design tool offers multiple art assets including stock clip art, a variety of fonts and color schemes, as well as the ability to upload any artwork or image files. It helps the user to design their product by guiding them to design within the appropriate design and bleed areas as well as our DPI standards. All designs created will be checked by our professional design team for any errors – free of charge!
Upload Artwork Template: This method is recommended for graphic designers and those who with professional design software. This method involves downloading templates from our website, reading the instructions, and then adding your images and artwork within the recommended area. After you've completed these steps, you are to reupload the finished template file to our website. Customers can upload their artwork on the product page before adding to the cart, at the cart page after the feather signs are added to the cart, or from their order history in their account backend.
Free Design Services: Our professional graphic designers will create your artwork for you at no additional cost. Every custom order at Vispronet is looked over by our professional team to check for any glaring mistakes or errors before getting approved. With this option we are able to help you create your feather flags banners design from scratch and coordinate with you for approval before starting the production of your order.
Have questions? We'd love to help. Call us at 877-822-0201 or Live Chat with a Representative. You can also contact us via email or form submission.
---
Feather Flag Materials
All our custom feather flags are rigorously wind-tunnel tested for quality control assurances. Unlike other companies' flimsy, cheap feather flags, we don't skimp on using the best materials to construct our products. Our feather flag banners give you the maximum printing area, even allowing your artwork to printed on the pole sleeve, instead of using a cheap solid color header tape. This small change makes for far more attractive and eye-catching flutter flags compared to other vendors. Whichever size or shape of feather banners you choose, attention will increase for your organization or business!
100% super-knitted polyester fabric
No cheap unreliable black nylon strips
Aluminum / fiberglass poles (up to 63mph wind-rating)
Snap poles with easy assembly
Single-reverse or double sided printing
Base options for indoor & outdoor use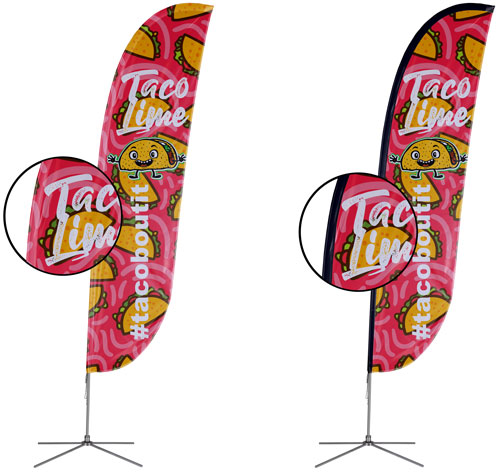 ---
How to Setup Your Feather Flags
Setting up your custom feather flags is a quick and simple task. We've outlined this below in five easy steps. In summary, connect the poles, slide the print onto the pole set, secure the pole tip into the reinforced end pocket, place the pole into the base, and connect the bungee cord tensioner and your feather signs setup is complete.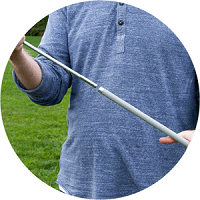 1. Assemble the pole set by inserting the small pole section into their larger counterparts.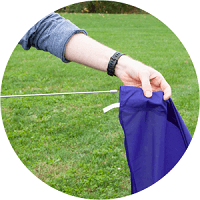 2. Insert the assembled pole set (skinny end first) into the opening at the bottom of the feather flag.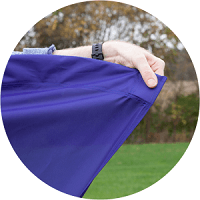 3. Push the pole into the pocket and secure the tip into the reinforced end pocket found inside the top of the flag.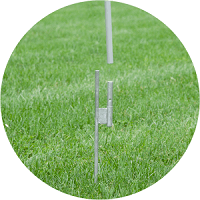 4. Place the pole into your base of choice: ground stake, cross stand, etc.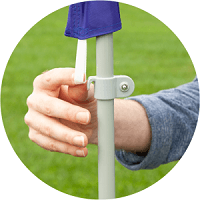 5. Connect the bungee cord loop around the hook of the pole set for extra tension and security.
Set Up & Wind Test Video
For more information on how to set up your feather flags, check out the video below:
---
Where to Use Feather Flags
Companies and organizations fly custom feather flags and banners for many applications. They are great for attracting the attention of passerby, including foot and car traffic. Feather banners can also be used to advertise grand openings, in-store specials such as sales and promotions, or just to draw passing traffic into your establishment. Popular industries that utilize feather flags include:
Trade show booths
Car dealerships
Cell phone carriers
Real estate businesses
Bars & restaurants
Schools & universities
Self-serve businesses
Events & entertainment
Department stores
Hospitals & pharmacies
---
Feather Flags for Multiple Applications
Vispronet offers the most comprehensive collection of feather signs in the industry. We offer different styles of feather flag signs that work for specific applications that are not available at other vendors. We have custom feather flags at cheap prices that can be used indoors and outdoors, at trade shows, in grass and gardens, on pavement and sidewalks, on cars, backpacks, or even hanging from a tent or modular display.
Within this collection are multiple shapes, styles, and sizes of our fully customizable feather flags, over 50 designs of pre-printed feather flags for businesses, solid color flags, car feather flags, and even a wearable advertising backpack. Each style has its own useful accessories that can be added to your order.
Our accessory offerings include over 30 base options, bags and cases, as well as a collection of base weights. Our bases range from our traditional and rotating ground stakes to cross stands and weighted base plates. Weight options for our feather flags for sale include steel plates, weight bags, plates, as well as water and sand containers.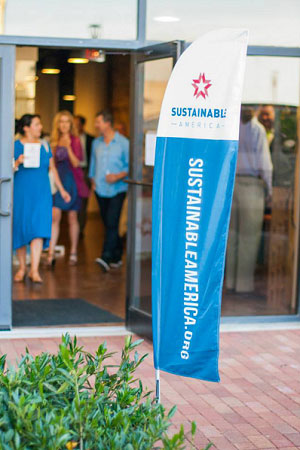 ---
Custom Feather Flags Comparison Chart
Standard & Premium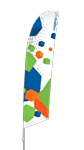 Angled
Concave
Convex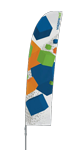 Straight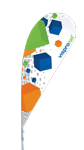 Drop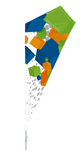 Razor
Deluxe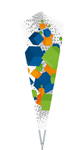 Crystal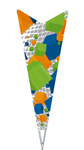 Dart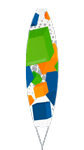 Surfer
Standard
XXSmall: 1.3ft x 3.6ft
XSmall: 1.8ft x 5.2ft
Small: 2.5ft x 7.2ft
Medium: 3.1ft x 8.4ft
Large: 3.6ft x 11ft
XLarge: 3.9ft x 14.1ft
Flying Display Size (Angled, Concave, Straight, Convex)
XXSmall: 1.3ft x 4.1ft
XSmall: 1.6ft x 5.9ft
Small: 1.8ft x 8.2ft
Medium: 2ft x 10.2ft
Large: 2.6ft x 13.5ft
XLarge: 2.8ft x 17.1ft
Single Reverse: 25-31mph
Double-Sided: 13-17mph
Premium
Aviation-Grade Fiberglass
Medium: 3.1ft x 8.4ft
Large: 3.6ft x 10.5ft
XLarge: 3.9ft x 14.4ft
Flying Display Size (Angled, Concave, Straight, Convex)
Medium: 2ft x 10.2ft
Large: 2.6ft x 13ft
XLarge: 2.8ft x 17.7ft
Medium: 3.1ft x 8.4ft
Large: 3.6ft x 11.2ft
XLarge: 3.9ft x 15.9ft
Double-Sided Prints
Continuous Outdoor Use
Single-Reverse: 55-63mph
Double-Sided: 39-46mph
Deluxe
Aviation-Grade Fiberglass
Single-Reverse: Up to 46mph
Double-Sided: Up to 46mph
Frequently Asked Questions
General
What is the turnaround time for feather flags?
All our custom feather banners require our standard 3-day production time plus shipping. We offer expedited shipping and production options at checkout if you need your order by a certain deadline.
How do I set up my feather banner?
Assembly can be completed in just a few minutes by only person. The snap assembly poles fit together with the thickest-diameter pole at the bottom. The assembled pole set then inserts through the flag's pole sleeve, and the tip of the pole set gets secured into the reinforced pocket at the end of the flag. Lastly secure the loop at the bottom of the flag for the appropriate tension and mount your flag to your choice of base. A mallet or hammer may be required to insert stakes into the ground.
For detailed instructions, please view the Videos and/or Assembly Instructions tabs above.
Is the feather flag, pole set, and ground stake included in the order?
Yes, the order includes a custom printed flag, pole set, and ground stake. If you would like to upgrade your flag size, printing options, pole set, or base, select from these options when configuring your product.
Can I order hardware without the flag and vice versa?
Yes! You can order just the flag, and you can order just the hardware if that is all you need. We offer all hardware including pole kits, bases, bags, cases, as well as weights and accessories. If you would just like the custom flag banners and not the hardware, you can make that choice when you are configuring your product.
Is there a difference between feather flags and feather banners?
This is a popular question. This is a product that goes by many names including swooper flags, feather signs, and blade flags to describe the same product. All these terms can be used interchangeably.
There are some differences when you are describing some of our other popular banner flags including our teardrop, crystal, surfer, razor, dart, and moon flags. Each of these has its own popular design, specific shape and layout. For example, our teardrop flag has and often has a wider and shorter shape than typical feather flags.
What are feather banners and flags used for?
These flags are used to entice passing traffic to enter your business. They are extremely effective if the print is eye catching and if they are set up correctly. It is important to display flutter flags that will complement your business rather than detract from it. Our custom feather flags are crafted from premium materials and exhibit a professional appearance for any event, brand, or business storefront.
Printing Specs
Will my design cover the whole feather banner or just a section?
Due to the high quality of our fabric, your design can cover the whole entire flag. This is different from almost all of our competitors, who's feather flags feature an unsightly 2.5 inch black strip up the seam due to their cheap flag fabrics.
What is the difference between double sided and single reverse print options?
Single-reverse and double-sided options refer to the print style. Single-reverse, also referred to as single sided feather banners, involves printing on one side and bleeding the printed ink through to the other side. It creates a reverse of the image on the other side. Double-sided feather banners involve printing two separate prints and combining them with a piece of fabric in between to prevent any transparency. It costs extra for double sided printing but produces a higher quality and more visible result than single- reverse flutter flags.
For double-sided prints, can I feature different images on the front and back of the flag?
Yes, you can print different images or designs on the front and back side of the flag. When creating double-sided feather flags, we install a fabric liner that fits between the two pieces of polyester fabric to prevent your unique designs from bleeding through the flag.
Do you offer custom sizing? What standard sizing do you offer?
We only offer standard, predetermined sizes for our custom feather banners. Our standard sizing is different for each product. For our custom blade flags we offer heights of: XXsmall - 4.1', Xsmall – 5.9', Small - 8.2', Medium - 10.2', Large - 13.5', and Xlarge - 17.1'.
Materials and Durability
What material are these feather flag banners?
Our flags are made from our outdoor flag polyester. This lightweight polyester material is built to last through outdoor conditions. This material is also great for color reproduction, meaning your design will stand out more compared to cheaper fabric from other competitors. It is suitable for single-reverse or for double sided prints.
What's the difference between the outdoor flag polyester and the mesh polyester?
The outdoor flag polyester is for more standard feather flag use while the mesh polyester is better for harsher settings. The outdoor flag polyester is a knitted material that is easy to print on. If you are looking for a fabric that will show off your design on both sides, the outdoor flag material is the right choice. The mesh polyester is better suited for durability, such as in very windy or sandy areas. Instead of brushing up against the fabric, the wind and sand particles go through the knitted material, preventing your flag from getting ruined.
How long will these feather flags last?
Your custom feather flags should easily last over 2+ years if for proper storage and maintenance requirements are followed. Continued exposure to harsh weather elements, including prolonged bouts in the hot summer sun, can prematurely diminish the quality of your print. Additionally, our feather flags are fitted with reinforced pole pockets to add strength and durability to the tip of the flag, ensuring your flag doesn't rip or tear when on display.
Do they have matte or glossy finishes?
Our custom feather signs have a matte finish. Matte is best for outdoor applications in bright conditions.
What is the wind-rating of the pole set hardware?
Severe winds may end up damaging or blowing away your feather flag if you do not opt for the proper hardware. Our standard pole sets are made from aluminum and fiberglass and can withstand winds up to 30mph. All premium pole sets are manufactured from aviation-grade fiberglass and can withstand winds up to 63mph. To get the most out of your flags, we recommend to always store them inside during harsh thunderstorms and inclement weather.
How do I care for my feather banners?
We recommend storing your flag indoors during extreme weather events like strong thunderstorm to avoid any permanent damage to the pole set or flag. To clean, simply spray the flag with a hose or machine wash the flag in cold water using the delicate cycle. Air dry after washing.   
Parts and Accessories
Does every flag order come with a carry bag for free?
Yes! Every order comes with a free complementary carry bag for your pole sets only. If you would like a carry bag for transporting the pole set, flag, and ground stake, we recommend adding a carrying case to your order.
Can I use pole sets from another company with your flags?
We do not recommend using another company's flag pole sets with our feather banners or vice versa. Our hardware and flags are designed to work together for a premium, professional appearance. Cheap feather flags provided by other vendors can rip or tear quickly and are not designed for long term display.
How long is the ground stake?
Our ground stake is 23.6in long and is crafted from rust-resistant, stainless steel. It will keep your feather flag stable and upright and is designed for all-season display.  
Can I interchange pole sets for different feather and teardrop flags?
No, each size flagpole is designed to just fit one size of flag as listed on the product pages.
What do you fill the weight bag with? And how much does it weight when full?
We offer multiple weight bags to use with our custom feather banners – all of which can be filled with either water or sand for indoor and outdoor use. All available weight options range from 26lbs to 102lbs when filled. Avoid filling the weight bags with water during freezing temperatures.
What base options are available?
We offer an array of base options that are compatible with our feather banners. Choose between a galvanized steel ground spike, a cross stand with weight bag, or both options when configuring your product above. Additional base options are available separately such as rotating ground stakes, ground screws, steel base plates, and car wheel bases. Check out all of our base options by clicking here.
What other custom products do people use with these flags?
In addition to a feather banner signs, many businesses use custom pop up tents, tablecloths, and most importantly, backdrop banners stands for further branding at trade shows. Start designing a step and repeat banner for your vendor booth.
California Residents

Click here for Proposition 65 warning
Basic Pole Set with Single-Reverse Feather Flag Wind Speed Test
Premium/Plus Single-Reverse Wind Speed Test
Double Sided Feather Flags Wind Speed Test
Frequently Purchased With
Q & A
Feather Flags Reviews