Barber Shop Feather Flag Kit Details
Advertise your business with this barber flag set. The flag's design looks like the traditional barber shop pole, with alternating red, white, and blue stripes that will catch the attention of potential customers nearby. The word "Barber" is in big, bold letters that is easy to read from far away, making it easy for people driving or walking by to view the message. This 13ft tall barber shop feather flag lasts a long time and is both affordable and functional. The knitted polyester flag is tear-resistant, so that you can display the kit in different weather conditions without ruining the material. The polyester also has a thru print – meaning that we print one side of the barber shop feather flag with the design and the mirror image bleeds through to the other side. This makes the image visible from both sides and keeps the flag lightweight and affordable.
Parts List:
Pre-printed feather flag
Your choice of pole set with bag
Your choice of base
Material:
Outdoor Flag Polyester: Tear-resistant lightweight knitted fabric with excellent thru-print (3.25oz/yd²)
Bases:
Ground stake
Cross stand & weight bag
Ground stake, cross stand & weight bag
Pole Sets:
Standard: Indoor or low-wind outdoor (max 30mph winds)
Premium: Continuous outdoor use (max 63mph winds)
Specifications
Size/Shape
Dimensions
Above Ground Height
Weight
Pole Diameter
Large Feather Flag
2.6ft x 11.2ft
13.5ft (Standard)
13ft (Premium)
1.4lbs
Inner: 17mm (+/- 0.2mm)
Outer Standard: 19mm (+/- 0.2mm)
Outer Premium: 26mm (+/- 0.2mm)
Large Teardrop Flag
3.6ft x 8.7ft
11ft (Standard)
10.5ft (Premium)
1.4lbs
Inner: 17mm (+/- 0.2mm)
Outer Standard: 19mm (+/- 0.2mm)
Outer Premium: 26mm (+/- 0.2mm)
Small Feather Flag
1.8ft x 6.6ft
8.2ft (Standard)
0.8lbs
Inner: 17mm (+/- 0.2mm)
Outer: 19mm (+/- 0.2mm)
Pole Set & Base Options
We offer two pole sets to choose from: Standard and Premium. The Standard set is ideal for use indoors and low-wind outdoor areas with wind speeds up to 30mph. All standard poles are constructed from aluminum and fiberglass. The Premium pole sets, on the other hand, suit harsh outdoor weather conditions and can endure winds up to 63mph. Our premium poles are made from aviation-grade fiberglass for extra durability. We also have a selection of bases to choose from. The ground stake is for displaying the flag in soft ground, such as grass and dirt. The cross base and weight bag option is for placing the barber shop flag on hard surfaces, such as sidewalks, asphalts, and floors. The whole kit installs in only a few minutes without the need for tools. See our "Videos" tab for instructions on how to install your barber flag.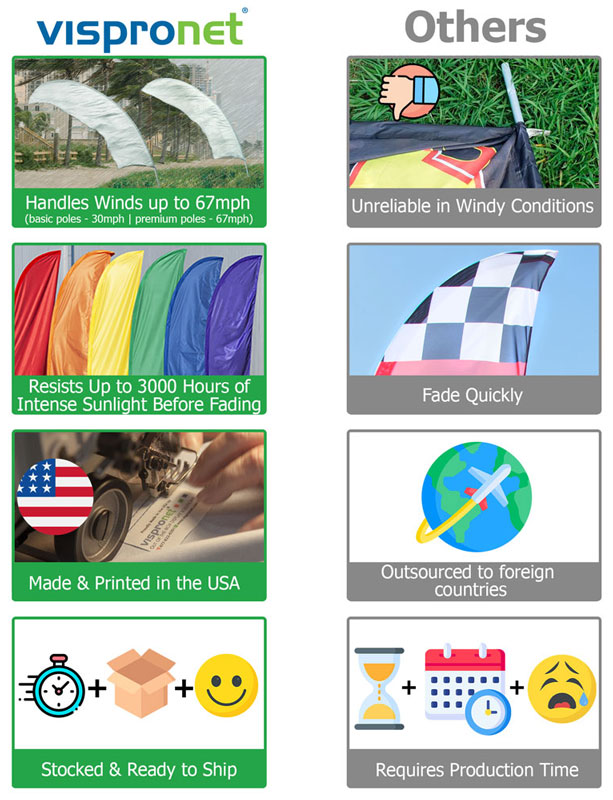 California Residents

Click here for Proposition 65 warning
Frequently Purchased With
Q & A