Custom Car Flags
Promote your brand, organization, or favorite sports team on-the-go with custom car flags. These vehicle flags are printed on durable tear-resistant polyester using dye sublimation for full-color prints that are scratch and fade-resistant. We offer multiple shapes and sizes to choose from as well as two printing styles: Single-reverse or double-sided. Assembly and installation for each flag style can be completed in minutes, with no tools needed. These personalized car flags are rated for speeds up to 70mph and are perfect for events, parades, and repping your favorite sports team!
FREE Design Services | Bulk Discounts | No Minimums | Design Online or Upload Template | 3-Day Turnaround | Rush Options | Free Proof | Pay Later
Car Flags from Vispronet
Custom car flags are the perfect mobile advertising solution to promote a business or to draw attention to an event, while on the go! These flags offer a professional and highly effective way to spread awareness through bright, full-color graphics that are easy to spot from the road and sidewalk. We offer fully customizable and solid color flag styles to choose from, as well as multiple flag shapes and sizes. Every car flag style is finished with a reinforced vertical pole pocket for enhanced reliability and to ensure a long product life for the flag.
High-Quality Flag Material & Prints
We craft our car window flags from premium outdoor flag polyester. This durable material is tear-resistant, wrinkle-resistant and has excellent color reproduction, showcasing your custom design or logo in brilliant, full-color graphics. This material is designed for indoor and outdoor use and sheds water quickly, making it suitable for all-season display. Our flags for cars are printed using dye sublimation, a cutting edge printing technique that produces vibrant, fade-resistant graphics that are sure to grab the attention of passersby while on the go.
---
Flag Features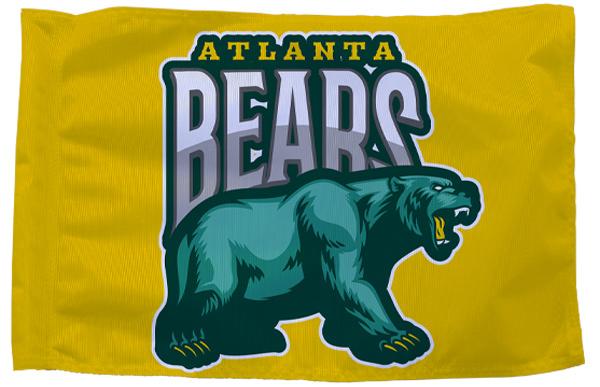 High-Quality Graphics
Graphics are printed using dye sublimation for a vibrant, full-color finish that scratch and fade-resistant.

Select Your Car Flagpole Style
Economy flagpoles can withstand speeds up to 30 mph while Premium flagpoles can withstand speeds up to 70mph.

Long-Lasting Material
Our car flags are crafted from our durable outdoor flag polyester. This lightweight fabric is tear-resistant and sheds water quickly, perfect for outdoor display.

Choose Your Printing Style
Select between single-reverse and double-sided printing styles. Both printing styles feature full-color graphics that are easy to spot from either side of the flag.

Pick Your Flag Orientation
Choose between the driver's side or passenger's side display orientation for a precise and targeted advertising approach.
---
Design Custom Car Flags Online: 3 Easy Methods
Design your window car flags using one of the three methods listed below. All artwork submissions are checked by our prepress team for any errors or pixelation issues. We will email you a final design proof for your approval before we begin printing.
Design Online: Create your artwork online, in real time, using our online design tool. This tool allows you to upload artwork and logos directly from your computer and makes it easy to add clip art, fonts, background designs, shapes, and more.
Upload Artwork: To design using this method you must download the artwork template from a product page, add your artwork using professional design software, and reupload the completed template to our website, before or after checking out. To find the artwork template, navigate to a product page, click the "Proceed to Artwork" button, and click the download button.
Free Design Service: We can fix your current artwork or can help you build a design from scratch – for free! Just send our team of graphic artists your current artwork or some design inspiration and we will work with you until the design is completed and applied to your flag.
---
Select Your Flag Style and Base
Flag Styles
We offer multiple flag styles and shapes to choose from including traditional, feather, teardrop, and rectangular variations. Each style is offered with single or double-sided printing and with your choice of driver's or passenger's side display orientation.
Base Options
All flag styles are offered with an optional car flag base. The base is used to attach the flag to the car. The base style chosen also determines how fast the car can travel while the flag is on display. Installing each base style is a quick and easy task that can be completed by one person, with no tools required.
---
Where To Use Custom Car Flags
Companies and organizations use window flags for cars because they are highly effective at spreading brand awareness, at a budget-friendly price. These flags excel at attracting the attention of passing foot traffic, as well as catching the eye of other motorists traveling on the road. They can be used to promote store openings, sales and promotions, delivery services, and more! Custom car window flags are most often used for:
Car lots
Car shows
Parades
Patriotic displays
Government caravans
Tailgate parties
Funeral processions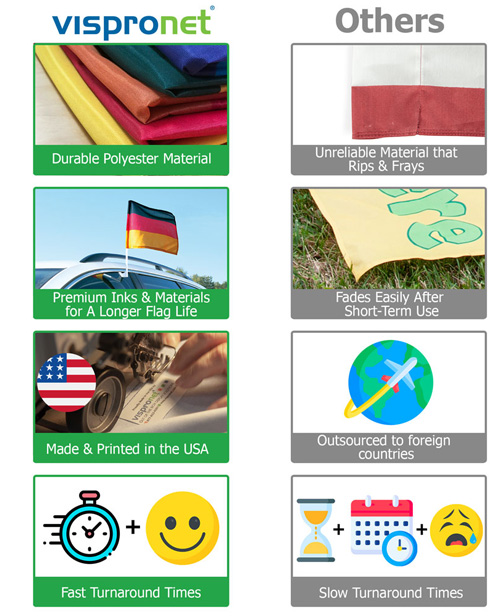 ---
Choose Your Printing Style
Single-Reverse
Single-reverse car flags are printed on one side and the ink is bled through the fabric to create a reverse image on the opposite side of the flag. Single-reverse flags are easy to spot in traffic and from the sidewalk, offering a cost-effective way to showcase your brand or advertising campaign. Single-reverse flags are not completely opaque, so the graphics are not quite as vibrant or colorful as double-sided car flags.
Double-Sided
Double-sided flags for cars are best for applications where the print needs to be clearly visible from both sides of the flag. Double-sided flags showcase the custom design with deeper, more vibrant colors and allow for two different designs to be showcased on each side of the flag. To create a double-sided car flag, two flags are sewn together with a piece of fabric in between to block out any light from shining through. Double-sided flags do not fly as well as single-reverse flags and cannot travel at the same high rate of speed.
Single-Reverse

Double-Sided

---
Car Flags for Multiple Uses
Our custom vehicle flags can be used for a variety of social and business-related activities and events. These flags are available in multiple shapes and sizes, can fit nearly any automobile model, and take only seconds to install, making them perfect for a range of short and long term display applications.
Sports and Personal Use
Car flags offer a portable method to cheer for your favorite sports team while on the go! These flags can be used while driving or while parked, making them perfect for tailgates, race events, football games, and more! Flags for cars are also an excellent way to showcase your personal designs or artwork to the masses! The flags are 100% customizable, allowing for maximum creativity and offering a blank canvas to showcase your artistic expression from your car or truck.
Professional and Business Use
Flags for car windows are commonly used by a range of local businesses like pizza shops, lawn care companies, HVAC companies, and more. Custom car flags feature your brand or business name printed in bright, full-color graphics that are easy to spot on the road and from the sidewalk. And, because the flags are so easy to install and remove, they can quickly be swapped out and switched from car to car with no difficulty.
---
Setting Up and Installing Your Flags
All Vispronet custom car flag poles have a durable plastic clip for easy attachment, with no hardware tools or messy adhesive required. There's no need to worry about using our vehicle flags on your automobile. We guarantee that the flags' adhesive strips won't leave residue on your vehicle and that the plastic mount clip will not scratch your window when removed.
Attach your vehicle flag to the flag pole mount
Roll your window down 75% of the way
Slide the car flag mount into place on top of the window
Roll the window back up to secure the flag pole
---
Easy Cleaning for Long-Lasting Flags
Cleaning your custom car flags is a quick and easy process and a great way to extend the life of your flags. If there are localized blemishes from grass or soil, they can be wiped away with a warm soapy cloth. Follow these simple guidelines when machine washing and caring for your flags:
Machine wash the flags using the gentle cycle and cold water
Use mild, color-safe detergent and color catcher (do not use bleach)
ang dry the flag for best results (do not use high-heat dryer)
Use a steamer to pull out any wrinkles (do not use an iron)
Taking these precautions will keep your car flags in great condition for repeated use. Contact our customer service team for any further questions about cleaning or caring for your flag.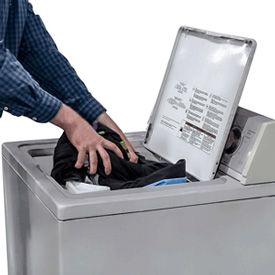 ---
Frequently Asked Questions
General
What is the turnaround time?
Our standard turnaround time is 3 business days, plus shipping. If you need your car flag faster than our standard turnaround time, we also offer rush production for an extra fee. We also offer expedited shipping options if you need your flags as soon as possible. To preview which shipping options are available for your delivery location, click the "Estimate Delivery" button located at the top of product pages.
Is there a minimum order quantity for custom car flags?
No. We do not have minimum order quantities for any products. Bulk discounts apply to orders with a quantity of 2 or more.
How fast can I go with the custom car flags attached to my car?
The maximum speed depends on which flag style and pole you select. The premium flagpole for our standard car flags is rated for speeds up to 70 mph and economy pole is rated for speeds up to 30 mph. Each flag style and shape has different speed ratings so you can choose the right flag for your application whether that be for road driving, parades, family reunions, or sporting events.
Is the vehicle flag applied to the driver's side or the passenger's side?
You have the option to choose whether you want to display the flag from the driver's side or passenger's side of your vehicle. When you are configuring your custom car flags, see the option under "Pole Sleeve" to choose which side you would like display from.
Are there discounted or wholesale prices for custom car flags?
Yes. The larger the order, the less expensive the car window flags are per piece. When you are configuring your flag product, enter your quantity. Once you enter the quantity, the price will update to show you how much each flag costs individually, as well as the total cost. (Example: 20 flags x $5.41)
What is the difference between "car flags" and "vehicle flags"?
Each of these terms refers to the same product and can be used interchangeably. Each term describes a car window flag that is finished with a pole pocket that can be attached to a car flag pole mount.
Printing Specs
How are the flags printed?
We print our flags using dye sublimation. This cutting-edge printing technique infuses the ink directly into the polyester fibers, creating spectacular, full-color graphics that are scratch and fade-resistant.
Can you help me create a design for my car flag?
Yes, we can help you fix any current artwork you may have, or we can help you build a design from scratch. For help designing your flag, navigate to your product's page, click the "Proceed to Artwork" button, then select "Let Us Design It For You". From there, you will upload any existing artwork files you may have and fill out the form to correspond with our design team.
Materials and Durability
What material are the custom car flags?
Our flags for car windows are constructed from outdoor flag polyester. This lightweight fabric is tear-resistant, has spectacular color reproduction, is durable and long lasting, and is designed for year-round outdoor use.
What are the car flag poles made from?
The flag poles are made from durable hardened plastic. These plastic bases are weather-resistant and designed for year-round display in all weather conditions including cold and hot weather.
Is my custom car flag weather-resistant?
Yes, the flag is weather resistant. We craft each flag from outdoor flag polyester. This lightweight fabric is tear-resistant and dries quickly, making it safe to display in all weather conditions including rain, snow, and wind.
How long do these car window flags last?
With proper maintenance and storage, you can expect these car flags to last for multiple years of use.
Parts & Accessories
Is the pole included with the auto flags?
When on a product page, you have the option under "Order Type" to choose Prints and Hardware, Prints Only, or Hardware Only. Here, you can choose to include the pole with your order or you can order just the flag, or just the pole.
Do you offer any other car related advertising products?
Yes, aside from our car flags we also offer our best-selling custom rear window decals. These rear decals are crafted from durable vinyl and are 100% customizable. They can be displayed on most car and truck models and can be applied at home, with no professional help required.
What our customers have to say