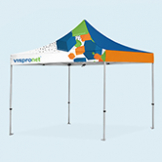 Custom Pop Up Tents for Events & More
Custom Pop Up Tents from Vispronet® prove bigger is always better! Whether used as a promotional trade show tent, a party tent, or as a temporary base of operations while advertising outside, custom pop up canopy tents create visibility for you, your brand and your event. Vispronet® offers a variety of custom tents, hardware, accessories and bags. We also offer Pop Up Tent Walls, so you'll be able to configure your very own pop up tent with sides. These custom canopy tents feature UV and scratch resistance, and are waterproof.
Shop by size: 5 x 5 | 8 x 8 | 10 x 10 | 10 x 20 | 10 x 15 | 13 x 13 | 13 x 20 | 13 x 26 | 20 x 20
Event Tents From Vispronet®
Whether you need a branded pop up tent for a small event, like a festival, fair or backyard party or a big event like a company function or wedding, Vispronet® has you covered. Our pop-up event tents come in a range of sizes, from 5' by 5' compact all the way up to 13' x 26' for truly large events. Our tents come in three styles:
In addition to the different styles of tent we offer, we also offer a number of accessories, including walls, rain gutters, awnings, leg banners and drapes, flags, banners and bows. If you're looking to truly make a splash at your next event, consider pairing one of our event tents with any one of the accessories we offer.
Looking for something even bigger? Check out our star tents.
Personalized Pop Up Tents Are Easy to Set Up
Vispronet®'s personalized pop up tents feature a high-quality aluminum folding frame that is able to support your custom canopy. All pop up canopies are easy to set up and can be assembled without tools. Simply fold out the frame, use the hook-and-loop tape tabs to secure the print to the frame and expand. It takes little time to properly assemble your custom pop up tent.
UV & Scratch Resistant Custom Pop Up Canopy Tents
All canopy pop up tents from Vispronet® feature scratch and UV resistance. In addition to the different styles of event tents we offer, our custom pop up tent fabric is also water resistant. You can count on your custom canopy tent to endure and effectively shelter you and prospective clients/customers from the rain. The rain will just roll off the roof and walls, keeping everyone and anything underneath your waterproof pop up tent dry.
Customizing Your Pop Up Canopy Tent
Vispronet® offers a number of different ways to customize your advertising canopy event tent. We offer a variety of different sizes of pop up tents, so you'll be able to choose the perfect custom tent canopy for your needs. We also offer just hardware and accessories, so if you already have a custom print ready to go, all you have to do is order a pop up tent frame.
but wait ...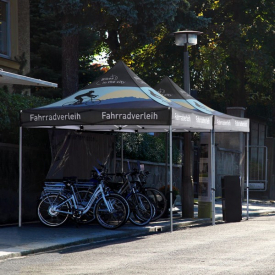 Looking for a way to add extra flavor to your custom canopy tent?
Order a Pop Up Tent with Sides
Add Pop Up Tent Walls, which allow you to add extra protection to your custom pop up canopy while also giving you extra space for custom graphics. We offer pop up tent walls in full wall and half wall configurations. Fully custom printed and stock color (no print) options are available. All custom tent walls easily attach to our pop up tents. Full tent walls are quickly connected with hook-and-loop adhesive tabs, while half walls require a hardware kit for proper display. Configure your fold up canopy tent with sides by clicking on your desired product and add your custom walls with our product configurator.
Select Pop Up Canopy Tent Walls
Looking for an easy way to get the pop up canopy tent with sides that best fits your needs? Our canopy tent wall configurator is here to help. Simply click on the event tent that you'd like to configure walls for in order to get started. As part of the ordering process, you'll be presented with a series of buttons that have the wall sizes you're selecting next to them. Clicking "Choose Wall" will bring up the configurator, allowing you to configure your pop up canopy tent's walls. We offer a number of different wall styles, such as full walls, half walls, walls with doors, walls with windows and walls with doors and windows. Once you've chosen the walls that best fit with your pop up canopy, you can click on the "Save Wall Selection" button, which will save your tent wall selections in the configurator, so that you can either purchase them right then and there as part of the order process or come back to the whole thing later as you need to.
Who Uses Custom Pop Up Tents?
Our advertising canopy pop up tents can be used both indoors and outdoors, and have been utilized by a wide variety of different industries at fairs, events and more. Some of the industries that have used a custom canopy from Vispronet® include:
- New/Used Car Sales
- Sports Teams – Football, Baseball, Soccer Tents & More
- Clubs & Organizations
- Auto Parts & Repair
- Catering Companies
- Radio Stations
- Travel Agencies
- Local, State & Federal Agencies
- Cell Phone Companies
- Sports and Custom Outdoor Canopies
- Military Recruiters
- And More!
Pop Up Party Tents
Looking for a custom tailgating tent with sides? Throwing a party? Custom printed event tents will deliver a polished look to your cause. Whether it's a party, wedding, graduation, birthday, buffet, or holiday party, you can use our event tents for any special occasion. Let it be a cover for the food or place several custom tents together with custom pop up tent walls to create an elegant sitting area.
Taking Care of Your Custom Canopy Tent
It's easy to take care of an advertising tent from Vispronet®. Cleaning can be done easily by wiping away dirt and debris with a damp cloth. Once you're done tearing down your pop up tent, all you need to do is to fold it up and store it away. One of the best ways to keep your personalized pop up canopy tent free of dust and debris is to detach it from the frame and place it in a bag. The frame can be stored in one of our optional pop up tent bags, which are made of a durable polyester that keeps your custom pop up tent safe until the next time you need to use it.
Questions About Our Custom Tents?
If you have any questions about our customized tents, please contact us today or Live Chat with a Representative.
Personalized Pop Up Tent Comparison

Click here to download this table as a PDF.
Features
Most economical pop up tent with good stability
Budget-friendly with strong construction
Collapses to a small size and fits into the trunk of a car
Best-selling frame is lightweight and durable
Strong and lightweight in unique pavilion shape
Highest-quality frame constructed in large sizes
Frames
Steel: Powder-coated, cream white color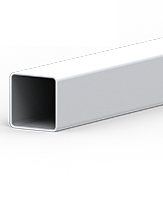 Leg Size
30mm x 30mm (1.2" x 1.2")
Leg Thickness
1.0mm (0.04")
Steel: Powder-coated, off-white color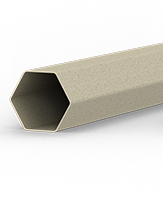 Leg Size
40mm x 40mm (1.6" x 1.6")
Leg Thickness
1.0mm (0.04")
Aluminum: Powder-coated, grey color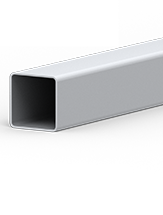 Leg Size
30mm x 30mm (1.2" x 1.2")
Leg Thickness
1.0mm (0.04")
Aluminum: Anodized, commercial-grade, silver color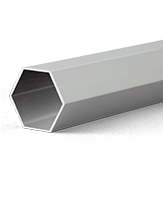 Leg Size
40mm x 40mm (1.6" x 1.6")
Leg Thickness
1.2mm (0.05")
Aluminum: Anodized, commercial-grade, silver color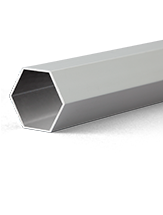 Leg Size
40mm x 40mm (1.6" x 1.6")
Leg Thickness
1.2mm (0.05")
Aluminum: Anodized, industrial-grade, silver color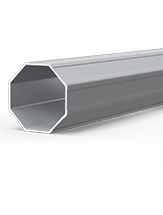 Leg Size
52mm x 52mm (2.0" x 2.0")
Leg Thickness
1.6mm (0.06")
Size
Weight Collapsed
10'x20'
101lbs
62"x17"x9"
10'x10'
31lbs
48"x10"x10"
8.5'x8.5'
28lbs
48"x9"x9"
10'x10'
45lbs
62"x10"x10"
13'x13'
55lbs
83"x10"x10"
13'x13'
89lbs
83"x12"x12"
13'x20'
118lbs
83"x11"x16"
13'x26'
157lbs
83"x23"x13"
Wind Rating
20 mph
25 mph
25 mph
30 mph
30 mph
43 mph
Stability*
*Pull ups for demo only. Do not try at home. Will void warranty.

Feet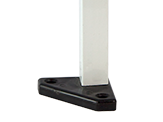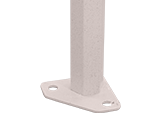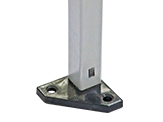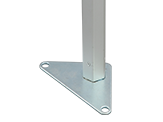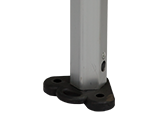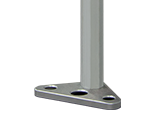 Disclaimer
Wind rating is determined from testing in a controlled environment. All Pop Up Canopy Tents should always be stabilized with tent stakes or weight kits. Place at least 20lbs of weight on each leg; triple the weight for Premium advertising tents. Use triple the amount when heavier wind gusts (20+ mph) are expected. Trade show canopy tents should not be used in inclement weather, including thunderstorms, heavy rains, lightning or high winds. User must read and observe assembly instructions. If this is not done correctly, it may result in damage to the unit, injury or death, and all warranties will be void. All warranties will be void if hardware is used with any print not produced by us.