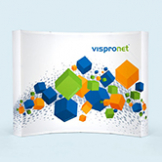 Pop Up Display Booths For Trade Shows
What's the No. 1 thing trade show exhibitors want? Attention. Help grab notice to your trade show display with Vispronet's pop up displays and portable booths. Our trade show and conference display products will help you to attract prospective leads and customers, thanks to our high-quality, vibrant printing capabilities. All of our trade show and conference display systems are portable and easy to set up, meaning you'll be ready to go in minutes. Get ready for your next conference or trade show by clicking a product below.
back to top
Trade Show Booth Displays from Vispronet®
Pop up portable booths are an easy way to create a professional promotion or trade show presence in minutes. Our pop up trade show displays are made of light-weight aluminum frames for easy transportation. The aluminum frame easily folds up into a trolley case - ideal for the busy presenter on the road. Your own custom artwork is printed on our durable polyester fabric, Polydeco Deluxe or Polydeco Opaque FR. The graphic print will be attached when it arrives and does not need to be removed from the frame before folding it. The fabric is wrinkle-resistant to reduce wrinkling of your portable exhibition booth when setting up the frame after traveling. When it's time to set up, the display booth expands to its full size and snaps into place with locking clips. Simply clamp the lights on top and your pop up display is ready for the world to see. A steamer can be used to perfect the print.
The custom graphic of your trade show display booth can cover the front or can be configured to wrap entirely around the frame, allowing for dual-sided printing. Whatever you choose, our print material will deliver vibrant colors and the finest detail.
Pop Up Displays with Interchangeable Prints
Time to add a new display to your frame? No problem. The graphic attaches with hook-and-loop tape so changing the print of your pop up backdrop is simple. There is no need to order new hardware to change the appearance of your portable booth. When ordering another print display, choose the no frame option within our product configurator.
Choosing the Right Pop Up Booth
Vispronet® offers pop up displays & booths in various shapes and sizes. Choose between straight or curved, optional backlighting, traditional backdrops, or our unique magnet or 3D stretch panel pop up trade show displays. For optimal use, we encourage our customers to use one frame with several interchangeable prints depending on their trade show needs. Sizes range from 2.5ft x 2.5ft table top displays to 19.6ft x 7.4ft portable trade show booths. We also offer 4-sided pop up portable booths. Choose your shape, size, and optional accessories to create the perfect conference displays at Vispronet®.