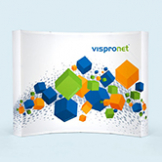 Pop Up Display Booths For Trade Shows
Perfect for exhibiting at trade shows, conferences and more
Every booth style and size available for sale
Quick and easy set up and break down
Portable and lightweight for travel
Durable, wrinkle-resistant material
Hardware also available separately if needed
How to Create a Consistent Look With Pop Up Trade Show Displays
Your pop up display is most likely the largest part of your trade show exhibit.
Why does this matter?
Here's the bottom line: if your pop up display is the biggest part of your trade show booth, then it's the part of the booth that potential customers will linger on most often. Because of this, it needs to be consistent with the rest of your exhibit's branding. Visual consistency sets an expectation for your booth and helps your customers build trust in your brand — they know what to expect when they see your trade show booth.
So how do you create and present a consistent look for your booth with a pop up display? First and foremost, follow your brand style guide. By following the brand style guide for your company, you ensure that the visual message your pop up display booth shows stays on target with what your company wants to show with this specific brand.
What else can you do to help ensure that the brand imagery you present on your pop up display is both successful and genuine?
Align your trade show booth display's strategy with your company's overall goal
When it comes to designing a pop up booth, it's best to start with your overall idea for the show as a whole.
What best represents your company and its role in the industry?
In order to answer this question, here's what you should be thinking about:
The overall theme of the show in question (e.g. the theme of the American International Toy Fair is toys)
The main product you want to sell. Are you introducing something new? Highlighting a product? The main product focus of your booth should be plainly visible.
Your primary message. What do you want your audience to be thinking or saying as they walk away from your booth?
The primary experience for your audience.
Once you've got all of these in mind, it's time to think about the best way to engage your potential customers in a way that's visual and interactive. After you decide on the best way to engage your customers and bring them to your booth, you can use that as the driving design force for your whole trade show exhibit, including your pop up display booth.
Using Pop Up Booths to Capture Audience Attention
Once you've created a consistent look for your pop up display and the rest of your trade show exhibition, how do you use that to bring in customers?
There are a couple different things you can do:
Optimize the design of your pop up display booth for the event in question. Every event you take your display booth to brings with it a unique audience. You need to address the audience's needs and make sure they're considered when you put the design for your pop up trade show display together.
Add technical elements. Everything from lighting to touch screens and other lead–capture technology can be used alongside your trade show display booth to bring the audience to you. One of the biggest ways to do this is to set up a charging hub — potential customers will flock to you as the need to charge their devices increases, giving you a good opportunity to make a pitch to them.
No matter what you do, know that you have just three seconds to capture a customer's attention before they walk away from your booth and decide to go somewhere else. Use them wisely.
Frequently Asked Questions
What size pop up displays do you offer?
We offer a number of different sizes for our booths. Customers can choose from sizes as small as 2.5' square to something as large as 19.6 feet by 7.4 feet.
Do you offer custom sizes?
Unfortunately, because many of our pop up booths are designed around standard trade show table and trade show booth sizes, we cannot offer custom sizes at this time.