Pop Up Tent Flooring
Our portable tent flooring is made of plastic polypropylene and is offered for every size of Vispronet® pop up tents. Looking for a custom size? We offer individual tiles that can be assembled to fit the size you need.
Tent flooring orders placed by 1pm EST receive same-day shipping
Why Get Tent Flooring from Vispronet®?
Our event tent flooring is designed to be an all-in-one solution for creating a full floor for your tent -- no matter the size. Each of our tent floor options comes with enough tent floor tiles, trip guards and tile corners to fill out the full space of your tent. Our floor products attach to each other with a simple hook-and-loop fastener system, making assembly a breeze: each of our tent floors can be easily set up by two people in under ten minutes. Other key benefits include:
Durable construction: our tent flooring is made of plastic polypropylene to ensure that it lasts.
Slip resistance: the texturing applied to our floors means that you'll find traction and grip no matter how wet it gets outside.
UV resistance: the plastic polypropylene construction of our tent floors means that they're UV-resistant and won't fade, no matter how much you use them.
Weather resistance: our tent flooring is proof against things like mud, high winds and other basic weather elements.
Freezeproof: no matter how cold it gets, our event tent floors, mats and tiles are resistant to freezing, so you won't slip and slide on the ice.
Colorfast: the black color of our portable flooring is dyed in such a way that it won't fade or be washed out.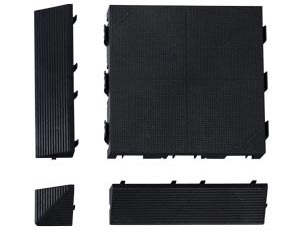 Tent Flooring For Trade Shows & Events
Our flooring can be used in many different environments, and you can use that to your advantage if your trade show is outdoors or in a non-traditional setting. No matter if your event is on sand or grass or dirt, our flooring is a great way to give your tent the stability it needs to withstand the trade show circuit. Our tent flooring is designed to give you not only a professional appearance, but also the ease of use to make installation and disassembly a snap. If all you need is a layer of protection between the ground and your customers, we can do that too. The tiles can also be used to create portable walkways, arena floor coverings, and more.
What our customers have to say