Car Wash Flags
Also Available:
Car Wash Feather Flag Kit 3-Pack

Pre-Printed Feather Flags - $24.99 + Free Shipping

Car Wash Flags Details
Our car wash flags are a quick and easy way to let passing cars know that your business offers car wash services. These tall car wash sign banners are visible from different directions and are easily read from a distance due to their vibrant print and large message. The blue background, bold white letters, bubbles, and car design are guaranteed to grab to the attention of passerby. These car wash banners are a great addition to gas stations that want to showcase their car cleaning services.
Parts List:
Pre-printed car wash flags
Your choice of pole set with bag
Your choice of base
Material:
Outdoor Flag Polyester: Tear-resistant lightweight knitted fabric with excellent thru-print (3.25oz/yd²)
Bases:
Ground stake
Cross stand & weight bag
Ground stake, cross stand & weight bag
Pole Sets:
Standard: Indoor or low-wind outdoor (max 30mph winds)
Premium: Continuous outdoor use (max 63mph winds)
Car Wash Flags Specifications
Size/Shape
Dimensions
Above Ground Height
Weight
Pole Diameter
Large Feather Flag
2.6ft x 11.2ft
13.5ft (Standard)
13ft (Premium)
1.4lbs
Inner: 17mm (+/- 0.2mm)
Outer Standard: 19mm (+/- 0.2mm)
Outer Premium: 26mm (+/- 0.2mm)
Strong & Affordable Car Wash Flags
These car wash flags are designed to be setup outdoors and are manufactured from durable knitted polyester fabric. This material has been tested for outdoor use and can withstand tearing and harsh winds. This makes these banners perfect additions around gas station parking lots. The knitted design also gives this flag a great thru print. This means that only one side of the car wash banner is printed, but the ink bleeds through the fabric and the reverse image is shown on the other side. By having the graphic on both sides of the flag, the message can be seen and read from different angles. The no-wind swooper style also allows the image to be seen, even if there is no wind.
The flag's hardware is just as strong as the fabric. Different pole set and base options are available to pair with our pre-printed car wash flags. The pole sets are offered in Standard and Premium models. The Standard version is more affordable but cannot be used in winds stronger than 30mph. The Premium, on the other hand, costs more but withstands up to 63mph winds. The appropriate pole set depends on where the feather flag will be displayed and for how long. Both our ground stakes and cross stands are crafted for durability and continual use outdoors.
Easy Assembly Without Tools
Our car wash flags can be assembled in just a few minutes by following a few simple directions:
If you are using a ground stake, insert the stake section into soft ground, such as grass or dirt. If you are using a cross base, unfold the legs and place it on a hard, flat surface, such as pavement.
Connect the sections of the pole set. They easily snap and click together.
Secure the car wash banner to the poles by sliding the side sleeve of the flag over the pole.
Pull the car wash flags down until taut.
Wrap the little loop of bottom flag fabric around the flagpole's hook.
Place the bottom of the pole onto the top of the base. If you are using a cross base, we recommend stabilizing it with the included weight bag. This bag fills with either water or sand.
Are you planning on using your car wash flags in a variety of settings? Both bases are for sale for multiple setups.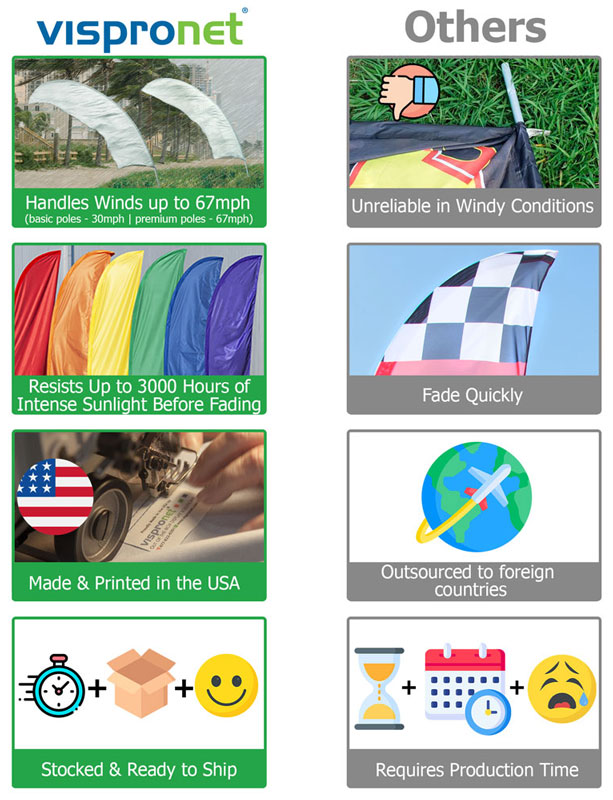 California Residents

Click here for Proposition 65 warning
Frequently Purchased With
Q & A