Hot Dog Feather Flag Details
Cater to your hungry customers with these massive, attention-grabbing hot dog flags. These pre-printed banners stand-out among a crowd and are easy to see from far away due to their strikingly vibrant print and 13ft height. The flag is perfect for repeated setup outdoors or indoors due to its durable outdoor-tested polyester material. This material is knitted so that it will not tear, allowing it to withstand changing weather and frequent use. The hot dog banner design is printed on one side of the flag and the reverse image bleeds through to the other side due to the thru print. This allows the message to be visible from all directions. Our state-of-the-art dye sublimation technique produces vivid colors that will not scratch or peel when setup for a long time.
Parts List:
Pre-printed feather flag
Your choice of pole set with bag
Your choice of base
Material:
Outdoor Flag Polyester: Tear-resistant lightweight knitted fabric with excellent thru-print (3.25oz/yd²)
Bases:
Ground stake
Cross stand & weight bag
Ground stake, cross stand & weight bag
Pole Sets:
Standard: Indoor or low-wind outdoor (max 30mph winds)
Premium: Continuous outdoor use (max 63mph winds)
Specifications
Size/Shape
Dimensions
Above Ground Height
Weight
Pole Diameter
Large Feather Flag
2.6ft x 11.2ft
13.5ft (Standard)
13ft (Premium)
1.4lbs
Inner: 17mm (+/- 0.2mm)
Outer Standard: 19mm (+/- 0.2mm)
Outer Premium: 26mm (+/- 0.2mm)
Choosing A Pole Set
Choose from standard or premium pole sets that easily assemble without tools to set up the flag in minutes. Standard are made from aluminum and resist winds up to 30mph. Our premium poles are made from aviation-grade fiberglass and aluminum and resist winds up to 63mph. Base options include stakes for display on soft, outdoor ground and a cross base for use on hard indoor and outdoor floors. Promote your hot dogs to attendees of an event or potential customers of a restaurant or food truck with these hot dog flags.
Promote Your Business with Super-Effective Hot Dog Flag Banners
Many businesses display feather flags to advertise their products to potential customers walking or driving by their place. These hot dog flags have an eye-catching design so that they grab the attention of everyone nearby. Our feather flags are perfect for setting up in the lawn or on the sidewalk of a restaurant or food truck, but they are also perfect for using at an event outdoors and indoors, such as a food festival, local fair, or sports game. The large 11ft size is easy to see from far away and the clearly printed message is simply read from both sides of the banner flag. People coming from all directions will see your message and know where they can get some food, which is an easy way to promote your business to new customers. Anywhere you are selling hot dogs, these feather flags can be setup to bring more people to your stand or establishment.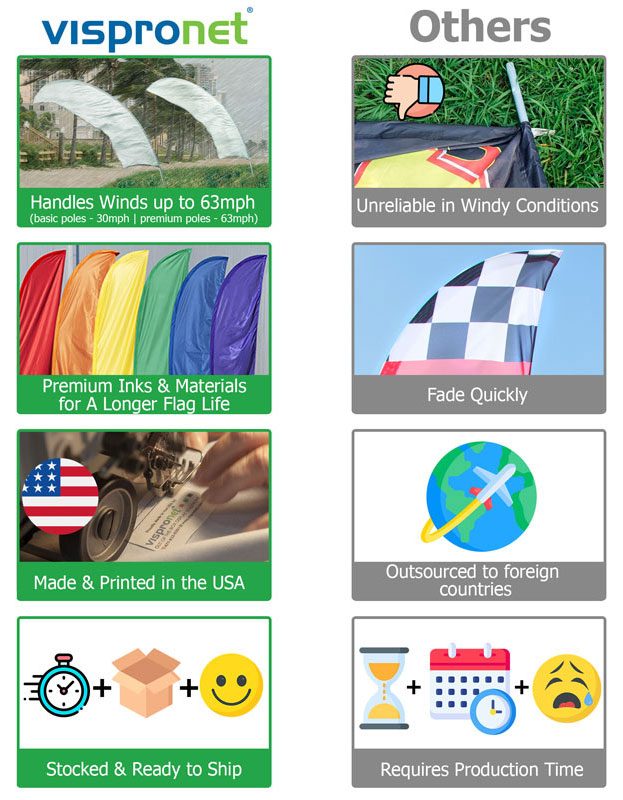 California Residents

Click here for Proposition 65 warning
Frequently Purchased With
Q & A