Farmers Market Tents
Find the perfect farmers market tent for your next outdoor event! Design a canopy printed with your custom branding to help your business stand out from the competition. Choose from two customizable styles: All over print and logo print. Stock color canopies are available in white, black, blue, green, and red. Our tent frames are made outdoor-tested steel or aluminum materials to withstand years of repeated use. Multiple wall styles and accessories are available to create the ideal farmers market tent for your business.
FREE Design Services | Lowest Prices | Design Online or Upload Template | 3-Day Turnaround | Rush Options | Free Proof | Pay Later
Farmers Market Tents Help Your Business Stand Out
Finding the right farmers market tent can make all the difference when it comes to marketing your business to customers. Whether you are selling produce from your farm, or clay pots from your home studio, a professional quality farmers market canopy can prove vital to the success of your business. A customized or personalized tent will help your brand stand out among a sea of competitors and can bring more foot traffic into your booth. Branded tents not only showcase your business in a professional light, but they also protect your goods and customers from the sun and rain. Choosing a durable and easy-to-set-up canopy tent can make your life easier as a vendor and improve the prospects of your business.
Custom Farmers Market Tents vs. Stock Color Canopies
Read below to see how a farmers market tent from Vispronet can be a great investment for your small business. All canopy styles are offered with your choice of three commercial grade tent frames.
Customized Canopy Styles
Customized farmers market tents allow you to personalize each peak and valance of the canopy with your custom branding or design. While stock tents are typically the most popular canopy style featured at markets, custom canopies can be more beneficial for businesses looking to separate themselves from competitors. Custom farmers market tents are excellent at spreading brand awareness which in turn can positively impact marketing efforts, consumer perception, and brand loyalty. When customers become more familiar with your brand, they are more likely to become repeat customers, and more likely to recommend your business to others.
Stand out among competitors
Easy to spot from every direction
Spreads brand awareness
Offers versatility for other events
Enhances professional appearance
Match custom walls & accessories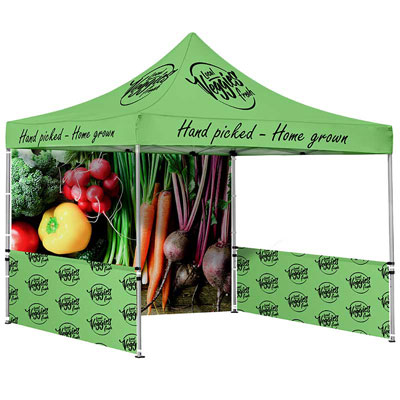 Stock Canopy Styles
Stock color canopies are another option for vendors displaying at markets and events. Stock tents for farmers markets are a less expensive option compared to fully custom canopies and are a great alternative for businesses looking for basic protection from the sun and rain. We offer five different canopy colors to choose from: White, red, blue, black, and green. Although you cannot customize the peaks of the stock famers market tent, we offer accessories to customize the valances of your tent with custom banners, flags, and awnings. Customized valance banners are typically the most popular stock canopy accessory and allow businesses to showcase their name, logs, and brand colors.
More economical pricing
Customize with banners and flags
Professional quality canopy
Durable and reliable tent frame
Half-wall and full-wall coverage available
Choose from 5 canopy color options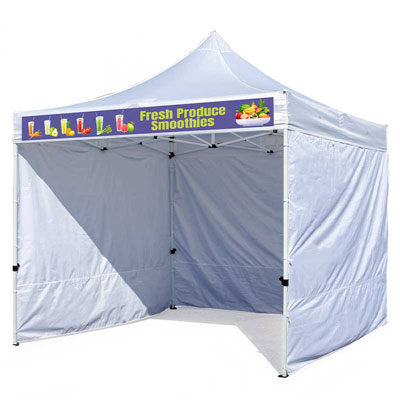 Premium Canopy Printing
We print our farmers market tent canopies on your choice of 300D or 600D polyester. Both polyester styles are water-resistant and scratch-proof to last through a rough and tumble display circuit. We use a modern dye-sublimation printing process to recreate your graphics. This printing method prevents the graphics from scratching or peeling. The ink is infused into the material so that it feels like it is part of the fabric rather than layered on top of the polyester. The color reproduction offers bold, vibrant designs. We also use full CMYK color, which allows you to add unlimited colors and details into your artwork without it affecting the price or the outcome of the graphics. This premium printing technology results in less scratches and blemishes on the canopy over time, leading to a longer product life.
Size and Frame Options
Our farmers market tents come in many sizes to suit different locations and events. The most popular sizes for farmers market and flea market pop up tents ranges between 8.5x8.5 – 10x20, but we also offer smaller and larger sizes. The most common size that vendors use is the 10x10 option. We also have different types of tent frames and materials. Our Compact and Deluxe frames are made from premium aluminum material while our Economy and Basic frames have a more affordable steel construction. Each frame has different height settings and weights. Below is a graphic showing the difference between our popular Economy, Basic, and Deluxe tent frames.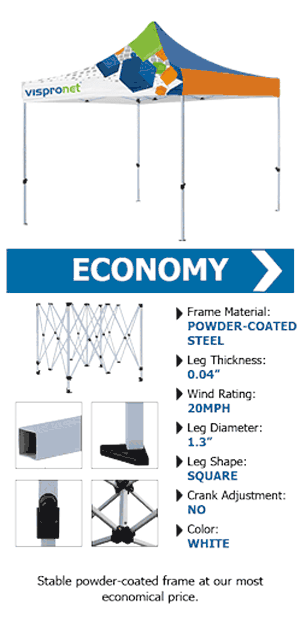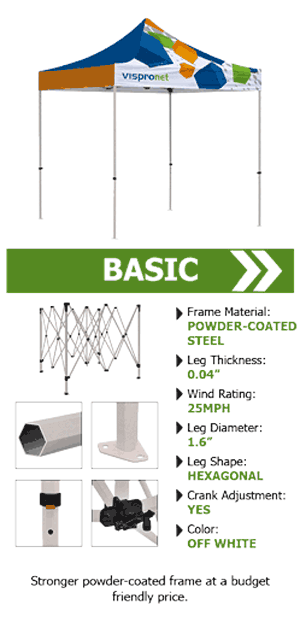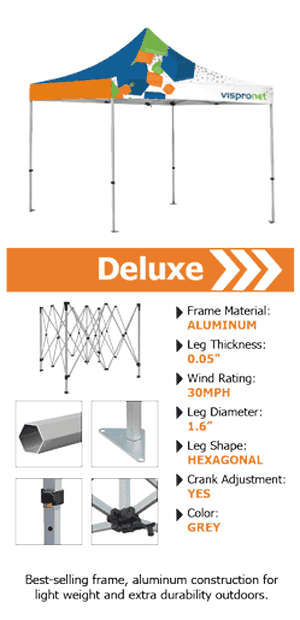 All Over Print and Logo Print Canopies
Our custom farmers market tent canopies are available in all over print or logo print options. Consider what your artwork looks like and how much of the canopy you want to design when choosing your coverage option. The all over print version allows the graphics to cover all the peaks and valances of the pop up market tent while the logo print only covers specified areas of the peaks and valances. The rest of the logo canopy is printed with a background color to make the graphic or logo pop. If your design is large and includes background artwork, such as a pattern, the all over print is the best option. If your design includes a logo and a slogan or website with a single background color, it would be more cost-effective to go with the logo print option. No matter which coverage option you choose, the print will come out looking great on our high-quality canopies. View the graphic below to see the advantages of a custom printed canopy: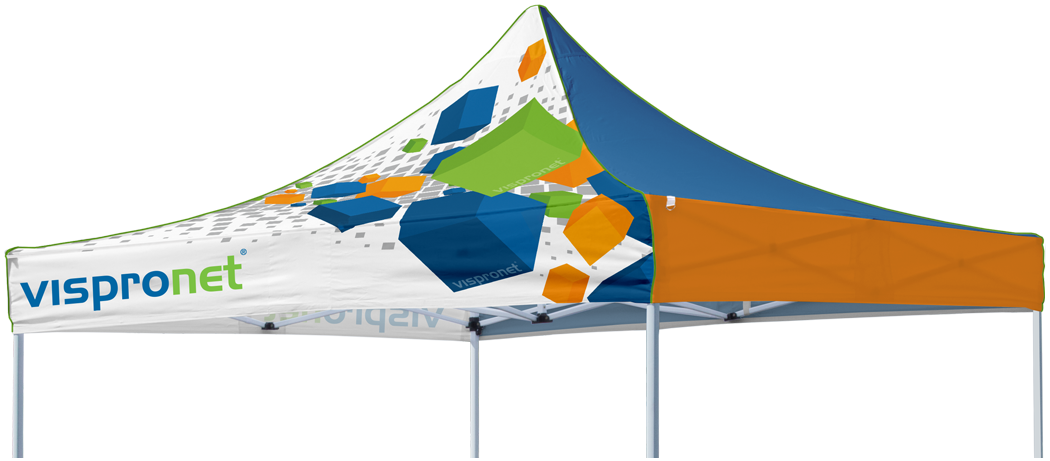 Full-Color Dye Sublimation Printing
All our farmers market tents are custom printed in full digital color for bold, dramatic color reproduction. Each side of the canopy can be custom designed so your outdoor market tent can be spotted from every direction.

Water-Resistant And Flame-Retardant
Designed for indoor and outdoor use, our custom canopies are finished with a water-resistant and flame-retardant finish to best withstand the elements.

300 or 600 Denier Polyester Fabric
Each custom farmers market tent is printed on durable yet lightweight 300 Denier Polyester Fabric. This super smooth, high-quality fabric is scratch and tear-resistant and has superior lightfastness. Upgrade to our ultra-durable 600D fabric for even more protection.

Heavy-Duty Binding Strips
Reinforced strips are added into the seams on each corner to add strength and extend the life of the custom canopy.

Quick and Secure Setup
Lightweight polyester paired with hook and loop fasteners makes for a quick and secure setup and breakdown at flea markets and events.
Farmers Market Tent Add-Ons and Accessories
Further customize your canopy tent by adding walls or other accessories to your order. These add-ons offer more advertising space and will help your business stand out.
Wall Options
All our tents for farmers markets have the option for adding walls to every side. Our walls are scaled to fit the size of each tent side and are available and full or half sizes. Add walls to one or all sides of the tent and print each wall with the same design or add unique graphics to each wall. While the farmers market canopy helps customers see your tent from far away, walls get the attention of passersby who are closer to your tent.
Choose from full, half, window, & door styles
Single-sided, double-sided, and stock print wall styles
Installation and removal can be completed by one person
Walls crafted from same durable polyester as the canopies
Add-ons
In addition to walls, a popular way to add more branding to your tent is with accessories and hardware. Add a customized banner or flag to your stock tent to showcase your business name and promote the products you sell. Custom awnings are great way to add surface area under the canopy while adding some color to your tent.
If you are displaying multiple tents, we have gutters that fit in between the canopies to catch the rain water and redirect the water behind the tent. We also offer various types of bags for carrying and transporting your tent from location to location. If you always place your tent outdoors, it is important to stabilize the weight of the tent so that the wind does not blow it over. Adding stakes and/or weights to your order allows you to secure your farmers market tent to soft or hard surfaces.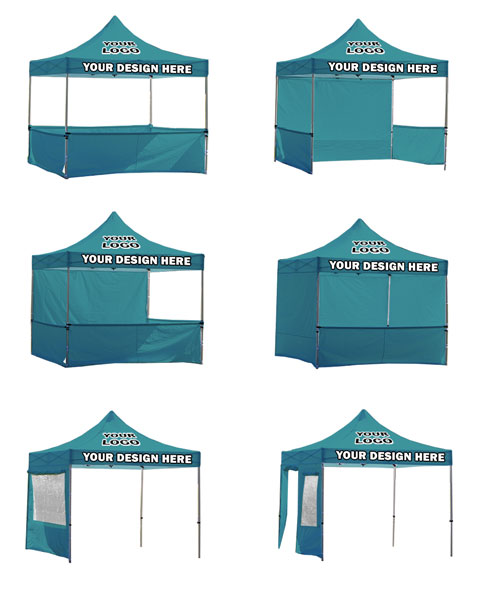 Easy To Maintain Canopy & Frame
Vispronet farmers market tent frames and canopies are easy to clean and maintain so you can use them for years of display. For large dirty areas on the canopy, simply spray with water and wipe down. For small blemishes, wipe away dirt with a damp soft cloth and let air dry. Once you are finished displaying the canopy tent at the farmers market or flea market, just collapse the frame, remove the canopy, and store it away in a provided travel bag. Storing the farmers market canopy in a carry bag prevents it from collecting dust and other debris, keeping its pristine finish for your next event. The foldable tent frame can be stored in one of our optional tent bags. These tent bags are crafted from sturdy polyester so you can easily carry your frame with you to your next event.
Frequently Asked Questions
What is the turnaround time?
The turnaround time for our pop up tents varies depending which style you choose. For our customized canopy tents, the turnaround time is typically 3 business days. We offer rush production if you need your farmers market tent sooner than our standard turnaround time. Stock canopies can be shipped out same day if ordered before 1 p.m. ET or next day if ordered after 1 p.m. ET. Expedited shipping is available if you need your canopy tent as soon as possible.
Do you offer replacement parts?
Yes, if you have damaged or lost one of your canopy frame parts, we offer replacement parts for each frame style. If you are unsure which part you need for your frame style, don't hesitate to contact our customer service team, who can help you find the part you need to fix your tent.
What our customers have to say